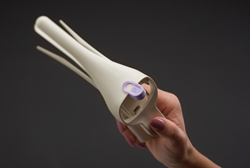 PORTLAND, Ore. (PRWEB) October 07, 2020
The Nella NuSpec Reusable Vaginal Speculum was honored in Fast Company's Innovation by Design Awards for 2020 in the Health category.
The awards, which can be found in the October/November 2020 issue of Fast Company, recognize people, teams, and companies solving problems through design. One of the most sought-after design awards in the industry, Innovation by Design is the only competition to honor creative work at the intersection of design, business, and innovation.
The Nella NuSpec is the first major redesign of the reusable vaginal speculum that takes into account both the patient experience and unmet provider needs. Designed for ultimate patient comfort, the NuSpec utilizes a narrow bill—about the size of a regular tampon—with hidden sidewall retractors. Speculum insertion can be painful, but the NuSpec's narrow size and smooth material allow it to glide in with ease. When the provider opens the device, lateral retractors retain vaginal sidewalls so providers have adequate visibility and access to conduct an exam or procedure.
For the provider, a unique toggle locking mechanism allows quiet opening and locking of the device with one-hand—unlike the metal speculum, which can make clanking, anxiety-inducing noise and requires two hands to secure. The NuSpec's handle form and increased angle also provide improved ergonomics for clinicians, crucial for a device used constantly throughout the day.
The NuSpec can improve the exam experience for any patient, but it can make a dramatic difference for patients with increased sensitivity, such as first-time patients, post-menopausal women and cancer survivors.
"At Ceek Women's Health, we believe in bringing both patient and clinician perspectives to the table as we work to improve medical devices used in gynecological care," says Fahti Khosrowshahi, CEO and founder. "This honor is a testament to the extensive five-year design and development process for the Nella NuSpec, where we worked in partnership with OBGYN providers and patients, taking into consideration the needs of both parties for the first time."
"We need innovative design more than ever, and the 2020 honorees have brought creativity, inventiveness, and humanity to address some of the world's most pressing problems, including the global pandemic, racial injustice, and economic inequality. Together these entries offer a glimpse into a future that is more inclusive, more accessible, and more just," said Stephanie Mehta, editor-in-chief of Fast Company.
The judges include renowned designers from a variety of disciplines, business leaders from some of the most innovative companies in the world, and Fast Company's own writers and editors. Entries are judged on the key ingredients of innovation: functionality, originality, beauty, sustainability, user insight, cultural impact, and business impact.
Winners, finalists, and honorable mentions are featured online and in the October/November issue of Fast Company magazine, on newsstands October 20.
To see the complete list, go to: https://www.fastcompany.com/innovation-by-design/2020
ABOUT CEEK
Ceek Women's Health is a women-led medical device company focused on creating products for a better pelvic exam. The company was born out of founder and CEO Fahti Khosrowshahi's personal experience going through three years of infertility treatment. Ceek's process is to understand the user experience from both the patient and clinician perspective and uncover opportunities often overlooked by standard medical device companies.
ABOUT FAST COMPANY
Fast Company is the only media brand fully dedicated to the vital intersection of business, innovation, and design, engaging the most influential leaders, companies, and thinkers on the future of business. The editor-in-chief is Stephanie Mehta. Headquartered in New York City, Fast Company is published by Mansueto Ventures LLC, along with our sister publication, Inc., and can be found online at fastcompany.com.