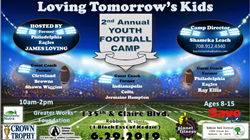 "As the LTK Camp Director I am always excited to give back to the community. As a Commissioner or just a volunteer at any event I live by this quote: 'Volunteers don't necessarily have the time; they just have the heart.' -Elizabeth Andrew" - Shameka Leach, Director of the LTK Football Camp
CHICAGO (PRWEB) June 28, 2019
The event is being directed by the Commissioner of the City of Markham, Shameka Leach, and hosted by former NFL Philadelphia Eagles player James Loving (founder of the LTK organization). Guest Coaching the event is former NFL Cleveland Browns player Shawn Wiggins, former NFL Indianapolis Colts player Jermaine Hampton, and former NFL Philadelphia Eagles player Ray Ellis. Sponsorships by Neoteric Nutra™, Greater Works Foundations, Crown Trophy, Robbins Alumni Association, Planet Fitness, Save A Lot, Robbins Park District.
Founded in 2009 by former NFL player James Loving, the Loving Tomorrow's Kids (LTK) organization is focused on empowering, encouraging, and educating today's youth. As a child, Loving was raised in the South Suburbs of Chicago with little access to places or programs for him to learn and develop life skills. Overcoming adversity, he became an NFL player for the Philadelphia Eagles. He is now inspired to give back, positively impacting his community by providing opportunities for the youth, allowing each individual to achieve their greatest success. The LTK Organization aims to empower youth, educate them on life lessons and the appropriate way to deal with discrimination, conflicts, and social injustices that occur within their communities. The LTK Football Camp is one of the programs Loving Tomorrow's Kids organization provides to the community.
We hope to see you for an exciting day packed full of teamwork, discipline, dedication and leadership.