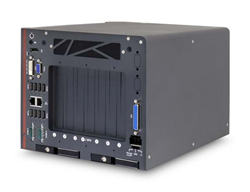 NEW TAIPEI CITY, Taiwan (PRWEB) February 20, 2020
Neousys Technology, an industry-leading provider of rugged embedded systems, today launches the Nuvo-8034. Based on the one-for-all concept, Nuvo-8034 perfectly meets the I/O expansion demands of industrial automation and system integrators for machine vision, automation, and AI applications.
Nuvo-8034 is the first box-PC offering a total of seven expansion slots, including two x16 PCIe, two x8 PCIe and three PCI slots, in just half the volume of a typical 4U, 19" industrial computer. Along with Intel® 9th/ 8th-Gen Core™ desktop processor and workstation-grade Intel® C246 chipset, it delivers state-of-the-art processing power among off-the-shelf box-PCs and rack-mount IPCs. More than that, with Neousys' distinctive power design and effective thermal ventilation, Nuvo-8034 is able to power a single 180W NVIDIA GPU, to fuel teraFLOPS performance for deep learning-based vision inspection applications.
External I/O wise, Nuvo-8034 has eight USB 3.1 Gen2/ Gen1 ports with screw-lock, two Gigabit Ethernet ports, four COM ports and 8-CH isolated DI plus 8-CH isolated DO for general machine automation usage. It also has two front-accessible, hot-swappable 2.5" SATA tray with RAID 0/ 1 support for easy storage manipulation. Internally it supports M.2 NVMe and up to 128 GB DDR4 memory for ultimate system performance.
"Nuvo-8034 is a new-breed of box-PC for the market. It has literally the same or exceeding slot capacity and computing performance compared to traditional 4U, 19" IPC, while occupying just half the space. This gives machine makers a great opportunity to reduce the size of control cabinet or put more devices into it. Not to mention that the front-accessible I/O design makes it very easy to deploy and maintain." said Ariel Chen, product manager of Neousys. "Additionally, by supporting a 180W GPU, it's now possible to leverage cutting-edge deep learning methodologies to build up more complicated vision inspection systems. We believe Nuvo-8034 is the universal platform fulfilling all demands of machine automation and vision inspection, both now and in the future."