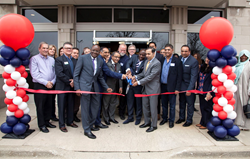 HOMER GLEN, Ill. (PRWEB) April 09, 2019
Dialysis Care Center's (DCC) mission is to provide patient-centric care to those with end-stage chronic kidney disease in all communities, especially those in underserved areas. This care, in conjunction with their industry leading business efficiency, has sparked tremendous company growth and has required the necessity for a state-of-the art corporate facility to support this growth. The Grand Opening, held on April 5th, celebrated their commitment to patients and the future of the growing company.
"The success of Dialysis Care Center can be attributed to not only our continued focus to provide exceptional patient care to all communities, especially those in underserved areas, but also to our forward-thinking business efficiency; enabling our partnering nephrologist stakeholders to have a voice in the operations and lead teams within the clinics. This sets us apart from other major dialysis providers," according to Dr. Tunji Alausa, Chief Medical Officer, Dialysis Care Center.
Establishing themselves as a leader in dialysis care, DCC currently operates in-centers and clinics nationwide and plans to continue to grow throughout the year. In addition to dialysis facility growth, DCC has realized the need for expansion within the corporate office. On April 5th, DCC celebrated their commitment to their patients with the Grand Opening of their new state-of-the-art corporate facility in Homer Glen, IL.
According to Dr. Babajide Salako, Chief Executive Officer, Dialysis Care Center, "This past year, Dialysis Care Center has experienced considerable milestones as a company with phenomenal growth in new clinics openings and sustained penetration in home therapy modality. We attribute our success to the hard work and dedication of our team members and the quality of care we provide our patients. The expansion of our dialysis facilities has naturally impacted our corporate headquarters. As we dedicate our new corporate facility on April 5th, the state-of-the-art building represents our company's future and stands as a reminder of our steadfast commitment to our patients, community and our team.