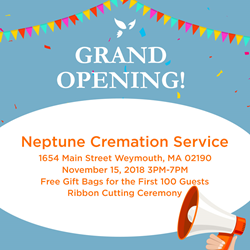 Guests may RSVP by calling the office directly at 781-277-6701.
BOSTON (PRWEB) November 08, 2018
Neptune Cremation Service's new Weymouth, MA location is ready to open. To celebrate, the cremation provider is hosting an open house and ribbon cutting ceremony on Thursday, November 15, 2018. Members of the Boston community can visit Neptune Cremation Service at its storefront location at 1654 Main Street, Weymouth, MA 02190.
Guests may RSVP by calling the office directly at 781-277-6701.
The ribbon-cutting ceremony will begin at 4 p.m. and will be sponsored by the Chamber of Commerce. Guests will then be able to tour the new facility and learn more about how Neptune Cremation Service serves families across the country. The first one hundred guests will receive a complimentary Neptune Cremation Service Gift Bag as part of the celebration.
In addition to tours, guests may speak with one of Neptune Cremation Service's licensed funeral directors, Christina Barboza. The Neptune Cremation Service team works each day to help families through the toughest days of their lives by carrying out the wishes of those who have passed away.
Neptune Cremation Service in Boston is a direct cremation provider, specializing in affordable cremation services. The office assists families with both preplanning cremation services ahead of time and immediate need after a loved one has passed away.
By providing varied and affordable plans, Neptune Cremation Service helps individuals craft cremation plans that honor their lives or those of their loved ones, without overspending. This allows members to truly have a say in how they want to be remembered, and it allows families to decide how to best celebrate the life of their loved one.
Taking time to preplan a cremation service can lift a huge burden off the shoulders of families. Having a plan in place ahead of time makes the entire cremation process simpler and less stressful for those left behind. If a loved one passes away unexpectedly, Neptune Cremation Service is also prepared to care for them with the same simplicity and respect at any hour and on any day of the year through their emergency phone number: 800-637-8863.
As part of the preplanning service, Neptune Cremation Service also allows families to prepay for their chosen services, locking in current prices. This avoids the natural inflation of funeral costs, and can potentially save families hundreds of dollars at an already stressful time. Neptune Cremation Service's staff works hard to ensure each loved one in their care is treated with respect, has their wishes fulfilled, and is reunited with their family as soon as possible.
For more information about cremation services, contact Neptune Cremation Service online or call 800-637-8863. Neptune Cremation Service is proud to open its doors in a new community and strives to serve its new neighbors with dignity and compassion.
An Affiliate of Neptune Management (MA), Inc./Neptune Management Corp.
100 NW 70th Avenue, Suite 200, Plantation, FL 33317, (954) 556-9400
http://www.neptunecremationofma.com/