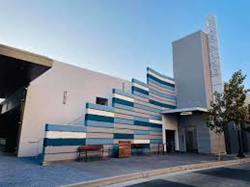 NES sets the pace in the garage ventilation controls industry.
SAN MATEO, Calif. (PRWEB) February 04, 2021
Monitoring at Cityline Sunnyvale's Murphy Avenue Garage in Sunnyvale, California confirms Nagle Energy Solutions' (NES) patent-pending, demand-control ventilation (DCV) system is limiting the energy consumed by the garage's sizeable mechanical system to just 2.7% of its full-load capacity — all while running on a 24/7/365 basis.
The result is to cut the baseline of energy consumption by more than 273,800 kilowatt-hours (kWh) a year — 97.3% — from the more than 281,400 kWh/year the Cityline Garage mechanical ventilation system would otherwise consume with no means of fan-motor control in place.
The Cityline Garage is continuously ventilated by seven exhaust fan motors comprising 50 horsepower. NES commissioned its innovative control system in December 2019, and since that time it has held average consumption to less than 7,600 kWh/year. In doing so, the NES system provides a recurring operational-cost savings in excess of $46,500 per year, not including future utility rate increases.
As a result, the cost to ventilate the multi-level garage on an annual basis is less than $1,300 (or $108 per month), appreciably less than $47,800/year ($4,000/month) property management would pay without the NES system in place and operating continuously.
When deployed in conjunction with proprietary NES sequencing logic, the NES control strategy routinely captures kWh and peak kW demand savings in the range of 95% to 97% and sometimes higher.
Industry research validates the NES approach. According to a recent, peer-reviewed study by engineers from the Illinois Institute of Technology (IIT), NES's control methodology was determined to be:

84% more energy efficient than the prevalent means of garage ventilation control currently deployed in new construction nationwide;
73% more effective than older "on-off" control systems installed throughout north America; and
98% more proficient than fan motors being always on.
"IIT's findings confirm NES sets the pace in the garage ventilation controls industry," notes NES Founder Frank Nagle.
The Cityline Sunnyvale Murphy Avenue Garage is part of a newly created, mixed-use neighborhood in the heart of Sunnyvale.
About Nagle Energy Solutions: Based in San Mateo, CA, Nagle Energy Solutions, LLC (http://www.nagle-energy.com) develops and distributes an innovative DCV system for commercial garages which markedly reduces energy consumption by increasing operational efficiencies.