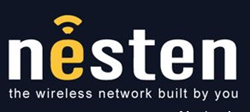 LOS ANGELES (PRWEB) October 22, 2020
Nesten, Inc., a leader in the next generation of IoT communications, will be introducing its latest products at three upcoming conferences: GSMA Thrive North America, October 27 - 29; Realcomm, October 26 – 29; and IoT Tech Expo, November 4 - 6. All conferences will be held virtually and registration is open to the public. The devices on display will showcase the network's capacity to accommodate a wide range of compelling use cases in public health, personal safety, and economic interest.
Nesten is revolutionizing wireless communication with the world's first multi-layered, participant-based wireless network. The network, which combines blockchain technology, machine intelligence, and IoT communications, provides a secure, self-sustaining wireless platform that is both economically viable and mutually beneficial for data users and consumers alike. With a broad system distribution and bottom-up design, Nesten delivers the reliable, cost-effective, and robust coverage needed to support a variety of functions across an infinite number of IoT devices.
Most importantly, Nesten's network architecture redefines the data paradigm. The current data communications model serves large centralized corporations, leaving users and their data without protection, privacy, or compensation. By integrating artificial intelligence, decentralized storage, and encrypted multi-layer blockchain, Nesten offers an alternative where user-generated data remains the property of the users and where requests for data sharing demand a monetary reward. All data is securely stored in the network's blockchain, only accessible with a proprietary cryptographic key pairing system that requires express data owner consent and authorization.
The Nesten network is comprised of two primary components. Individual devices, such as trackers and smartphones, use the network to create and use data. G1 wireless nodes—servers equipped with high-level machine learning and analytic capabilities for metadata extraction and event detection—are the gateways through which all data generated is transmitted, encrypted, and stored in the network. Users can connect to the network quickly and easily using their smartphones, then create a personal account that allows them to freely and securely store and access data generated by their various devices.
All of Nesten's products integrate seamlessly with the network via a complete suite of wireless connectivity protocols, including LoRaWAN, WiFi, Bluetooth, UWB, GNSS, and mmWave. These protocols facilitate enhanced geolocation, real-time management and notification, and continuous event monitoring, increasing the network's versatility and broadening end device compatibility. Nesten's latest devices, all of which feature multiple protocols, improve the safety of loved ones and pets, optimize shared economy opportunities, provide a secure solution for contact tracing, and streamline anonymous motion detection and recognition.
Location tracking
Nesten's multi-protocol (WiFi/Bluetooth/LoRaWAN) wireless tracker, integrated with hybrid GNSS and WiFi geolocation features, supports indoor and outdoor location-tracking capabilities with pinpoint precision and accuracy. The fully waterproof tracker features wireless charging and is accompanied by a portable docking station that enables an array of vertical applications.
The tracker is ideal for individual use cases that require regular location or status monitoring, such as pets or people with severe health concerns, a tendency to wander off, or a risk of disorientation. Constant monitoring delivers frequent updates to track health status and activity, and event detection sends alerts and notification if the pet or individual has left a designated area, fallen, or is experiencing an emergency.
Shared parking
Nesten's decentralized, multi-layer blockchain network is designed for facilitating new opportunities in the sharing economy that create consumer value, optimize existing infrastructure, and maximize available profits. In partnership with PNI Sensor, a world leader in sensor systems, Nesten's complete end-to-end shared parking platform creates multiple business use cases and enables low-cost peer-to-peer financial transactions. The network's multiple protocols—paired with low-power, long-life sensors—support both indoor and outdoor parking management with real-time notifications and occupancy monitoring, precise location detection, and turn-by-turn navigation.
See the press release for more on this ground-breaking application: https://www.prweb.com/releases/nesten_announces_strategic_collaboration_with_pni_sensor_to_bring_blockchain_economics_to_iot_connected_shared_parking/prweb17444896.htm,
Contact tracing
Nesten also provides a transparent, immutable, and secure solution for the growing and immediate need for accurate contract tracing without sacrificing personal privacy. When paired with location sensors, Nesten's UWB, Bluetooth, and LoRaWAN protocols deliver accurate distance measurement for social distancing enforcement, long battery life, and extended wireless coverage that can consistently and reliably alert individuals to breaches in distancing or possible exposure.
All data generated by both the user and the sensors—such as location, proximity, and personal data—is encrypted at the point of origin and stored in the blockchain bounty pool, creating a historical record for public research and contact tracing while preserving individual anonymity. Consent for and security of individual data remains with the user, but Nesten's decentralized architecture allows for fast, cost-effective access to any data necessary for public health.
Feature extraction & motion recognition
With Nesten's advanced machine learning, motion recognition and feature extraction become faster, more accurate, and more secure. Features are extracted from a video feed, compressed into only the skeletal structure, and transmitted via LoRaWAN to the G1 wireless node, where they are processed for recognition. Nesten's metadata extraction, which is built into the G1 node and minimizes system and storage overheads, is combined with artificial intelligence and heuristics to identify and address specific, targeted domain needs for data analytics.
LoRa-supported motion recognition and feature extraction lend themselves to a variety of situations that require complete anonymity and/or the analysis of large amounts of raw motion data, including population counting for infectious disease control, street-level security cameras, and patient monitoring and fall detection. Unlike WiFi or cabling, which have limited deployment range, LoRa enables uninterrupted data transfer over a greater coverage area with better reliability and lower power requirements. And, unlike extant motion and facial recognition technologies that transmit individual features, Nesten's transfer of minimal feature data—only the skeleton—ensures the personal identity of individuals is never exposed.
The way ahead
With its first successful global deployment of G1 nodes in 2019 and the completion of its first large-scale metropolitan LoRaWAN network earlier this year, Nesten continues to exponentially increase its footprint and network capabilities. The products introduced in the coming weeks are evidence of the company's dedication to creating connected, practical experiences that humanize leading-edge technology while prioritizing user empowerment, protection, and privacy.
"These new products highlight our focus on building real-world applications and validating the Nesten ecosystem," said Andrew Baek, CTO of Nesten. "We are committed to delivering timely and essential technologies that help address the myriad challenges facing us in today's world."
A team with deep technical experience and domain knowledge, Nesten leads the wireless communications industry with unparalleled excellence in blockchain and IoT technology, establishing itself as the preeminent community-based IoT network provider. By actively participating in industry events and conferences, Nesten remains resolute in sharing its vision of placing users at the center of the burgeoning data economy, expanding network accessibility, and refining the roadmap to meet compelling consumer needs.
For more information on registering for any of the conferences or to schedule a one-on-one meeting, reach out to our media contact provided below.
About Nesten, Inc.
Nesten, Inc. is a privately-held company based in Tustin, CA. The company specializes in IoT optimized blockchains and communication networks that reshape the wireless landscape into one that places participants at the center of data generation, transmission, and sharing. Since early 2019, the company has deployed hundreds of their advanced computing wireless nodes, establishing significant coverage footprints in New York; New Jersey; California; the Dallas and Houston metro areas; suburban Washington, DC; and Seoul, South Korea. With their rapid network expansion and growing portfolio of actionable use cases, Nesten remains at the forefront of innovation and development in the sphere of IoT wireless communications for the next technology era. To learn more, please visit http://www.nesten.io.
For more information on Nesten's blockchain IoT and its advanced technologies:
Media Contact
Maru Kim
maru@nesten.io
http://nesten.io/