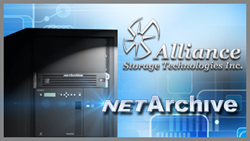 "Our new NETArchive solution is synergistic with Fullorbis focus on cutting-edge technologies."
Colorado Springs, CO (PRWEB) May 02, 2017
Alliance Storage Technologies, Inc. (Alliance), the leader in professional data archiving solutions, today announced a partnership with Fullorbis Technologies Pvt. Ltd. a Kochi, India based IT Management company serving clients throughout India. "We are pleased that Fullorbis has chosen to partner with Alliance Storage Technologies to provide best in class data archiving solutions. The group will be a strong addition to our growing partner network and expand our presence in India," remarked Alliance CEO, Chris Carr. "Our new NETArchive solution is synergistic with Fullorbis focus on cutting-edge technologies."
Fullorbis is a professional managed IT company involved in developing innovative products and solutions serving entertainment, content delivery, and OTT & IOT sectors. The company is now delivering highly reliable and scalable data archiving systems and solutions in India.
Fullorbis is driven by engineers guided by seasoned technocrats with long years of domain experience. "The market for professional high-end archive storage systems for the long-term preservation of data is opening up in India as the country takes a leap into digitization and Internet technologies, especially in governance and delivery of services. Media, Banking, Healthcare, IT and government will be the segments that will be initially served", said Ajit Menon, Managing Director of Fullorbis.
Fullorbis, as a channel partner of Alliance, will deliver best-in-class technology and pre-sales support. The integrated and scalable professional data archiving solutions offered preserve data unaltered for extended periods (greater than 100 years) at an exceptionally low total cost of ownership. Best-in-class global support services are available to sustain customer installations. The NETArchive solution provides value to various industries requiring long term data retention, security and data durability.
Fullorbis intends to sell and promote Alliance's new NETArchive data archiving solutions throughout the India marketplace. The NETArchive® is a purpose-built data archiving solution that offers leading edge technology and features required by today's modern data centers. Through an innovative modular architecture, NETArchive offers multiple storage tiers consisting of RAID, optical and cloud to create a robust and secure solution that can be tailored to meet the needs of today's archive market.
Alliance anticipates that the partnership will bring tremendous value to their marketplace which serves customers in a variety of industries. "We're delighted to be working with Fullorbis and look forward to a long-term partnership with the group," added Bill Gallagher, Director of Worldwide Sales at Alliance. "Fullorbis will focus on selling our NETArchive solutions to new and existing customers to solve their most complex data archiving challenges."
NETArchive, with its powerful integrated data management software, adapts to any business, organization, or industry, and provides customers with a flexible, secure more reliable, alternative to tape and disk for permanent storage of archived data at a lower total cost of ownership. With elastic scalability, the solution can accommodate enterprise archives from 45TB to 1.6PB within a single rack, small to medium archives up to 15TB, and simultaneously expand infinitely offline or to the cloud.
Contact Alliance Storage Technologies to learn about the FULLORBIS relationship or how NETArchive can archive in minutes and protect for a lifetime.
Fullorbis Technologies Pvt. Ltd.
To contact Fullorbis please call: +91 9447407543
For further information, please visit http://www.alliancestoragetechnologies.com , or call +1 719-593-7900.