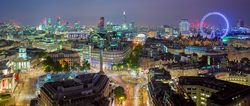 "We are seeing an increasing number of inquiries from customers with high bandwidth needs" said Mark Mahle, CEO. "These improvements are the first of several planned upgrades across our global footprint, designed to increase the availability of low latency, high capacity network services."
RALEIGH, N.C. (PRWEB) December 15, 2020
NetActuate has just completed a round of upgrades to their London data center, adding infrastructure and connectivity capacity. With these upgrades in place, NetActuate is now positioned to serve customers with high bandwidth needs, including those with large numbers of end users across European markets.
"We are seeing an increasing number of inquiries from customers with high bandwidth needs requesting affordable, reliable solutions," said Mark Mahle, CEO and Principal Technology Architect for NetActuate. "These improvements to our London facility are the first of several planned upgrades across our global footprint, designed to increase the availability of low latency, high capacity network services."
NetActuate's London data center is located in the heart of Europe's financial center with access to over 30 European markets and exchanges, as well as rich interconnection with a vast array of service providers, financial services, enterprises and digital media companies. Customers in this location can also benefit from direct access to LINX (the London Internet Exchange).
Featuring multi-factor security and fully redundant cooling, this facility benefits industry-leading power resilience from two separate 33kV supplies, from two independent grid substations, for a total incoming feed capacity of 9.6 MVA. NetActuate's London data center is also certified compliant for ISO 9001, ISO 14001, ISO 27001: 2013, OHSAS 18001, and PCI DSS.
Providers can easily deploy and expand their global presence on NetActuate's anycast delivery platform, built on one of the largest peered IPv4 and IPv6 networks in the world. Purpose built to deliver low latency and high reliability across diverse global markets, NetActuate's anycast platform is available from their London location, as well as over 30 US and global locations, with simple, predictable monthly pricing.
As part of NetActuate's global footprint, customers can deploy their hybrid environments into this and over 30 additional US and global locations, without having to manage multiple vendors for their infrastructure and low-latency network services.
To learn more about NetActuate's services from London, please schedule a call with a solution specialist by calling 1-800-419-2656 or visiting netactuate.com.
---
About NetActuate
Operating one of the 10 largest IPv4 and IPv6 peered networks in the world, NetActuate helps providers get closer to their end users – no matter where in the world they are. Available from over 30 locations worldwide, our managed network and infrastructure services simplify and accelerate the global distribution of online applications and SaaS platforms. Learn more today at 1-800-419-2656 or at netactuate.com. To learn more about BGP anycast and how it can help reduce latency across diverse global markets, visit NetActuate's anycast information resource site at anycast.com.