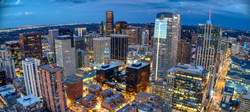 "We are thrilled to launch services from this new location in Denver," said Mark Mahle, CEO and Principal Technology Architect. "We are ready to meet increasing demand for optimized network and infrastructure services that reach central US end users quickly and reliably."
DENVER (PRWEB) January 29, 2020
NetActuate announces the launch of services from a new data center in Denver, Colorado, increasing virtual server, bare metal, and colocation capacity. New network connectivity partners will boost application delivery and network performance to end users located in the central US, as well as across North America.
"We are thrilled to launch services from this new location in Denver," said Mark Mahle, CEO and Principal Technology Architect. "We are ready to meet increasing demand for optimized network and infrastructure services that reach central US end users quickly and reliably."
Denver, Colorado is an ideal point of presence for critical application delivery, enabling low latency network performance to central and west US end users combined with a low risk for natural disasters such as earthquakes, tornadoes and floods. Denver is home to a number of prominent carriers with quality fiber and Internet, increasing connectivity options and reducing latency.
Strategically located in one of the fastest-growing tech hubs in the United States, this purpose-built facility features multi-factor security and recently upgraded, fully redundant, power and cooling. NetActuate's Denver data center is also SOC 2 Type II, ISO 27001, and PCI DSS compliant. Customers in this location can benefit from low-latency connectivity to IX-Denver (the Denver Internet Exchange). NetActuate's 24×7 NOC and local technicians are available to provide remote hands and expert support capabilities.
Providers can easily deploy and expand their global presence on NetActuate's Anycast Delivery Platform, built on one of the largest peered IPv4 and IPv6 networks in the world. Purpose built to deliver low latency and high reliability across diverse global markets, NetActuate's anycast platform is available from their new Denver location, as well as over 30 US and global locations, with simple, predictable monthly pricing.
As part of NetActuate's global footprint, customers can deploy their hybrid environments into this and over 30 additional US and global locations, without having to manage multiple vendors for their infrastructure and low-latency network services.
To learn more about NetActuate's services from Denver, please schedule a call with a solution specialist by calling 1-800-419-2656 or visiting netactuate.com.
---
About NetActuate
Operating one of the 10 largest IPv4 and IPv6 peered networks in the world, NetActuate helps providers get closer to their end users – no matter where in the world they are. Available from over 30 locations worldwide, our managed network and infrastructure services simplify and accelerate the global distribution of online applications and SaaS platforms. Learn more today at 1-800-419-2656 or at netactuate.com. To learn more about BGP anycast and how it can help reduce latency across diverse global markets, visit NetActuate's anycast information resource site at anycast.com.