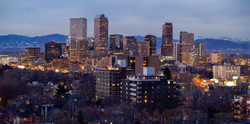 "Denver is an important US location for reliability, being in a very low-risk seismic zone and having an overall low risk for natural disasters," said Mark Mahle, CEO of NetActuate. "We can now offer increased capacity in a location perfect for backups, disaster recovery, and network failover."
DENVER (PRWEB) February 20, 2019
NetActuate announces new availability of network and infrastructure services from their Denver, Colorado data center. Recent expansions and upgrades provide additional capacity for bare metal, colocation, and increased bandwidth for latency-optimized BGP anycast and IP transit services.
"Denver is an important US location for reliability, being in a very low-risk seismic zone and having an overall low risk for natural disasters," said Mark Mahle, CEO and Principal Technology Architect of NetActuate. "Upgrading this location allows us to offer increased capacity for a location perfect for backups, disaster recovery, and network failover."
Centrally located in Downtown Denver, this data center is ideally situated in a Seismic Zone 1 – one of the lowest risk of earthquakes in the United States. With excellent mid-point US connectivity, this data center is an optimal location for disaster recovery and mission-critical environments.
As part of NetActuate's global footprint, customers can deploy their hybrid environments into this and over 30 additional US and global locations, without having to manage multiple vendors for their infrastructure and low-latency network services.
Providers can easily deploy and expand their global presence on NetActuate's Anycast Delivery Platform, built on one of the largest peered IPv4/IPv6 networks in the world. Our platform is available from our Denver location, as well as over 30 US and global locations, with simple, predictable monthly pricing.
To learn more about NetActuate's services from Denver, please schedule a call with a solution specialist by calling 1-800-419-2656 or visiting netactuate.com.
About NetActuate
Operating one of the 10 largest IPv4 and IPv6 peered networks in the world, NetActuate brings businesses and service providers closer to their customers. Available from over 30 locations worldwide, NetActuate's Global Edge and Network services deliver latency-optimized performance and reliability across diverse markets. Learn more today at 1-800-419-2656 or at netactuate.com.