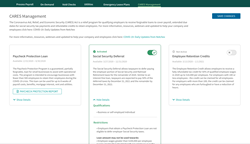 NEW ORLEANS (PRWEB) April 08, 2020
On Friday, April 3, Netchex released an update to their COVID-19 Response Portal giving employers an easy way to apply for the Paycheck Protection Program as part of the CARES Act, the latest Federal coronavirus relief legislation. Netchex, a Payroll and HR services company, in March released their COVID-19 Response Portal with solutions for employers to institute, track, and remain compliant with new coronavirus-related laws.
From Netchex's new CARES Management page, businesses can:

Review information on qualifications and restrictions for these credits to make an informed decision.
Opt-in or out for the Social Security Deferral credit and the Employee Retention Credit.
Upon opting into one or both of these credits, the Netchex system will automatically populate invoice credits against their tax liability.
Passed Friday, March 27, the CARES Act is a $2.2 trillion stimulus package that provides small businesses with almost $350 billion in cash flow assistance through one-hundred percent federally guaranteed loans. These new paycheck protection loans will help employers continue to cover payroll costs and other expenses during the COVID-19 crisis from February 15, 2020 to June 30, 2020.
To apply for this loan, companies will need to provide their average monthly payroll amount, the loan amount they are requesting, and the number of jobs they pay for. To help accurately gather these amounts in time to process applications, Netchex has created a new custom report for clients to easily access this information.
"New legislation is being enacted every week and clarifications are still coming out for previously passed laws," explains Netchex CEO, Will Boudreaux. "We can't start developing these updates once all the dust settles. Our clients need these solutions now. We want to give them the tools they need immediately and continue to update them as needed."
The COVID-19 Response Portal also includes easy EFMLEA and Paid Sick Leave management, allowing businesses to track, calculate, and pay emergency leave wages in just a few steps.
Simply enter the dates of leave for impacted employees and the Netchex system will take care of the rest. Netchex will calculate daily hours, regular rates, and the available balance of leave to be taken to ensure all new federal regulations are followed properly and tracked correctly.
The payroll process will automatically populate hours and amounts of leave for each employee under the specified earnings code, as well as apply the daily caps as outlined by the new law.
Using payment history from earning codes, Netchex is also able to track all eligible tax credits related to the Federal legislation.
Additional tools and services offered by Netchex can also help businesses remain functioning & compliant during this unprecedented time, including: an HR support center, employee self-service, virtual benefits enrollment, digital task management, and paycards—all backed by in-depth analytics and reporting, as well as award-winning customer service.
About Netchex:
Founded in 2003, Netchex has become one of the industry's fastest-growing payroll and HR service providers. Netchex's single-source solution is a cloud-based, end-to-end platform for managing the employee lifecycle from hire to retire. With powerful, yet easy-to-use technology and award-winning customer support, Netchex currently services over 4,000 clients. Headquartered in Covington, LA, Netchex has offices in Atlanta and Dallas with representatives nationwide. Please visit https://netchex.com for more information.