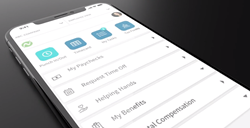 COVINGTON, La. (PRWEB) August 10, 2020
This week, Netchex—a payroll and HR technology company—released an update to their mobile app designed to improve the employee experience. Developed with today's on-the-go and ever-shifting workforce in mind, the updated app simplifies, yet enhances the employee experience by making everyday payroll, time and attendance, benefits, and other HR-related functions easier to access anytime and anywhere.
Netchex clients and their employees can harness the power of the Netchex system from their phone or mobile device, which allows them to clock in and out, check their schedule, request time off, view paystubs, review benefits summary, and complete HR tasks, as well as access company news, files, directory, links, and more.
"Employers are always looking for ways to improve the employee experience and increase engagement. And because today's workforce isn't necessarily sitting at a desk from 9 to 5 anymore, it makes it that much more difficult," explained Netchex CEO, Will Boudreaux. "By making the full Netchex system available to employees on their mobile devices, employers can ensure that they have the access and means to manage their employee experience daily."
Some of the employee-focused features included in this update include:

New mobile employee Dashboard with simple navigation to all employee pages
Easier-to-use punch in/out timeclock
Improved timecard view that makes editing and approving timecards easier
Instant access to payment history, including a visual breakdown of your paycheck
Biometric sign-in with fingerprint or facial recognition
The Netchex employee experience mobile app is available for download now in the Apple App and Google Play stores.
The app update is just the latest effort from Netchex towards bettering the client experience and improving employee engagement—something businesses always struggle with, especially now, during the ongoing pandemic. Last month, Netchex released a new feature called Helping Hands, which facilitates company-wide charitable campaigns and enables employees to make donations via automatic payroll deductions.
About Netchex:
Founded in 2003, Netchex has become one of the industry's fastest-growing payroll and HR service providers. Netchex's single-source solution is a cloud-based, end-to-end platform for managing the employee lifecycle from hire to retire. With powerful, yet easy-to-use technology and award-winning customer support, Netchex currently services over 4,000 clients. Headquartered in Covington, LA, Netchex has offices in Atlanta and Dallas with representatives nationwide. Please visit https://netchex.com for more information.