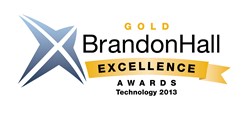 These awards highlight two core areas of innovation for NetDimensions: mobility and personalisation. - Alex Poulos, CMO, NetDimensions
Rocky Hill, CT, USA (PRWEB UK) 10 January 2014
NetDimensions (AIM: NETD; OTCQX: NETDY), a global provider of performance, knowledge, and learning management systems, won Gold and Silver Brandon Hall Group 2013 Excellence in Technology Awards in the following categories:

"We are very honoured by this continued recognition from the Brandon Hall Group," said Alex Poulos, Chief Marketing Officer at NetDimensions.
"These awards highlight two core areas of innovation for NetDimensions: mobility and personalisation. With an estimated one third of the world's workforce being mobile, NetDimensions Talent Slate is a native application specifically designed for tablets to support employees at the point of need. And NetDimensions SDK enables organisations to personalise the learning experience for both internal and external users wherever they may be."
The award winners were announced during a webinar hosted by the Brandon Hall Group on January 8th and are now listed here.
"It is our honor to recognise this year's award winners, who exemplify the commitment to innovation and excellence that drives growth and over-the-top business results," said Mike Cooke, Chief Executive Officer of Brandon Hall Group.
Rachel Cooke, Chief Operating Office of Brandon Hall Group who runs the awards program, stated, "With the innovation and unique differentiators demonstrated this year's entries, it is easy to see why these organisations are tremendously successful."
About Brandon Hall Group, Inc.
With more than 10,000 clients globally and 20 years of delivering world class research and advisory services, Brandon Hall Group is the most well-known and established research organisation in the performance improvement industry.
We conduct research that drives performance, and provides strategic for executives and practitioners responsible for growth and business results.
Brandon Hall Group has an extensive repository of thought leadership, research and expertise in Learning and Development, Talent Management, Leadership Development, Talent Acquisition and Human Resources.
At the core of our offerings is a Membership Program that Empowers Excellence Through Content, Collaboration and Community.
Our members have access to research that helps them make the right decisions about people, processes, and systems, combined with research-powered advisory services customised to their needs. (http://www.brandonhall.com)
About NetDimensions
Established in 1999, NetDimensions (AIM: NETD; OTCQX: NETDY) is a global provider of performance, knowledge, and learning solutions.
NetDimensions provides companies, government agencies and other organisations with talent management solutions to personalise learning, share knowledge, enhance performance, foster collaboration, and manage compliance programs for employees, customers, partners and suppliers.
Recognised as one of the talent management industry's top-rated technology suppliers in overall customer satisfaction, NetDimensions has been chosen by leading organisations worldwide including ING, Cathay Pacific, Hunter Douglas, Chicago Police Department, Geely Automotive, Fugro Group, and Fresenius Medical Care.
NetDimensions is ISO 9001 certified and NetDimensions hosted services are ISO 27001 certified.
For more information, visit http://www.NetDimensions.co.uk or follow @netdimensions on Twitter.