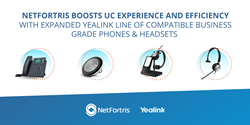 "We're excited to roll out these new phone and headset additions from Yealink. Employees can work from anywhere when they pair these devices with our Comm-unity UCaaS solution, accessing a truly portable office that meets all their communications requirements."
PLANO, Texas (PRWEB) May 05, 2021
NetFortris, an award-winning end-to-end provider of managed cloud communication solutions and network services, including hosted voice, SD-WAN and SIP Trunking, announced today that it now offers new premium Yealink phones and headsets, delivering an enhanced work-from-anywhere (WFA) experience.
New Yealink phones available through NetFortris include:
Yealink SIP-T33G IP Phone – This entry-level color screen IP phone offers:

Increased computing power compared to other models
Dual-port Gigabit Ethernet with integrated PoE
Extra-large 320x240-pixel color display with backlight
Smart Noise Filtering Technology for increased sound quality
HD voice audio
Local 5-way conferencing
Yealink CP700 Speakerphone – This portable speakerphone offers:

Call control via the CP700 directly
PC, tablet and smartphone connectivity via Bluetooth wireless pairing and USB wired connection
HD voice & audio
360-degree voice pick-up through omnidirectional microphones
Noise suppression
Acoustic echo cancellation
9-hour talk time battery life
New Yealink headsets available through NetFortris include:
Yealink WH66 DECT Wireless Headset – This wireless headset offers:

Dual device model with 14 hours of battery life
Mono device model with 13 hours of battery life
Wireless UC workstation with call control capabilities
PC, tablet and smartphone connectivity via Bluetooth wireless pairing and USB wired connection
400x800-pixel capacitive touch screen
Microsoft Teams compatibility
Compatible with NetFortris Comm-unity UCaaS
Yealink Acoustic Shield Technology to block background noise
HD voice & audio
Yealink UH36 USB Wired Headset – This wired headset offers:

Mono and Dual device models
USB plug-and-play connectivity to Yealink IP phones, PCs, tablets and smartphones
Noise-canceling microphone
HD voice & audio
Deep integration with Yealink IP phones for multiple call control and volume synchronization
"We're excited to roll out these new phone and headset additions from Yealink," said Steven Horgan, Director of Product Management at NetFortris. "Their noise cancellation and advanced multi-device call control capabilities are ideal for the migration to hybrid work environments across the country as businesses begin returning to the office. Employees can work from anywhere when they pair these devices with our Comm-unity UCaaS solution, accessing a truly portable office that meets all their communications requirements."
From May 1 to May 31, 2021, NetFortris is offering free Yealink SIP-T33G IP phones with all NetFortris Comm-unity UCaaS seats. Information on NetFortris Comm-unity UCaaS solution is available at https://www.netfortris.com/ucaas-comm-unity.
The enhanced Yealink lineup is available immediately through NetFortris Authorized Sales Partners. Partners can get more information or schedule a demo by contacting channelsales@netfortris.com or visiting the NetFortris UCaaS Partner Program page at https://www.netfortris.com/ucaas-partner-program.
About NetFortris
NetFortris delivers secure, reliable communications solutions customized to meet the unique needs of midmarket and enterprise customers. NetFortris cloud solutions are carried over a private nationwide MPLS network and include SD-WAN, Voice and Unified Communications, Network and Data Security, and 4G backup. NetFortris services are managed 24/7 with or on behalf of business customers by an expert network engineering and operations team. The company provides concierge customer advocacy, 24/7 in-house customer support and consolidated billing for multiple services and locations. For more information, visit http://www.netfortris.com. Follow NetFortris on Facebook, LinkedIn and Twitter.