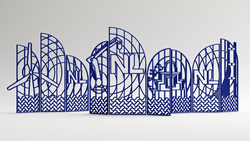 In order to solve the urgent challenges we face today, we need to design solutions for the world we will live in tomorrow.
LAS VEGAS and AMSTERDAM (PRWEB) January 05, 2022
Marking its sixth consecutive year, the Netherlands (NL Tech) Pavilions, opened today at CES 2022, where they will showcase tech solutions for a responsible future alongside a 100% circular, XL 3D printed art display. The NL Tech Pavilions are dedicated spaces intended to foster collaboration, broker valuable partnerships and introduce groundbreaking NL tech solutions that solve global challenges across a wide berth of tech categories, including sustainability and resilience, AI, robotics and quantum computing, health and wellness, smart cities and smart homes, smart mobility and vehicle tech, data security and big data. The Netherlands Startup Pavilion is located in the Venetian Expo, downstairs in Eureka Park (Hall G, Booth 61928), and the Netherlands Scale-up Pavilion is located upstairs in the Venetian Expo at (Halls A-C, Booth 50833).
"The NL Tech Pavilion at CES 2022 includes two pavilions for the first time, which demonstrates and maps to the immense growth of the Netherlands tech ecosystem over the past several years," said HRH Prince Constantijn van Oranje, Special Envoy to Techleap.nl and the Netherlands. "In order to solve the urgent challenges we face today, we need to design solutions for the world we will live in tomorrow. Our start-ups and scale-ups have answered the call to accelerate the change together. Sadly, while the coronavirus continues to have a global impact and current government regulations mean I cannot attend CES this year, I remain 100% committed to supporting all of the NL Pavilion companies regardless of my location."
The NL Tech Pavilion highlights its theme of "tech for a responsible future" through art and design with the addition of three, 100% circular, XL 3D-printed room dividers on display as the centerpiece of the NL Pavilion in Eureka Park. XL 3D printing pioneer, Aectual has translated the Dutch story of innovation and sustainability into a 3D printed storyboard that references the Dutch 2022 CES theme: "Tech for a Responsible Future" and visualizes topics including clean energy, data security and climate change. The Netherlands continues to use innovation to combat climate change and sea level rise, as such water is a key theme in the design, as is the blue of the European Union flag. Additionally, the Dutch-American relationship is portrayed by a traditional Dutch Canal House that meets the San Francisco Golden Gate Bridge. View a short video about how Aectual brought the design to life here.
Made from 100% circular, sustainable, recycled and renewable materials in the form of plant-based bioplastic, the room dividers were previously used as part of the seating area of the temporary convention center that was built in Amsterdam during the EU presidency of the Netherlands in 2016. The bioplastic can be recycled up to seven times and reprinted into new items. After use, Aectual takes back the building products and directly recycles and reprints them into new products. Depending on the product type, this results in a 35% to 95% material reduction due to its parametric designs, the number of materials needed, special manufacturing and product design optimization. Following CES, the room divider panels will be used at the Consulate General of the Netherlands in San Francisco. In its next life.
The NL Tech Pavilion companies participating at CES 2022 include:
SUSTAINABILITY AND RESILIENCE:
● Blue Heart Energy: A thermoacoustic engine that improves the performance of heat pumps. It doesn't require refrigerants, is silent, can be used in existing houses and enables a 50% cost reduction for the end consumer.
● Caeli: High-quality satellite data in real time for air quality and climate monitoring that is understandable, accessible and visible to cost and time-saving. Daily and available worldwide.
● Circularise: Facilitates a shift to a circular economy by digitizing and tracing materials across complex supply chains on a public blockchain without risking confidentiality.
● Dayrize: The world's first technology that holistically and rapidly assesses the environmental and social impact of any consumer product, enabling brands and retailers to reduce costs, unlock additional revenue and build brand value.
● Expivi: Interactive, 3D product configuration and personalization platform for e-commerce that uses AR to help brands give consumers an immersive shopping experience, with customizable and personalized products. (Scaleup)
● Ferr-Tech: Leader of Ferrate(VI) applications for revolutionary wastewater treatment. With the 'green chemical' FerSol, Ferr-Tech makse water treatment sustainable, efficient and circular. (CES Innovation Award Honoree)
● Hydraloop: Integrating clean tech, decentralized water recycling solutions in residential and commercial real estate to solve a growing worldwide scarcity of freshwater supply. Winner Best of CES2020. (Scaleup)
● Incooling: Cooling down the planet, one server at a time.
● Nowi: A semiconductor company that specializes in the development of energy harvesting power management technology for consumer electronics and IoT devices. (Scaleup and CES Innovation Award Honoree)
● Ocean Grazer: Energy storage system for (offshore) wind farms and other renewable energy sources. (CES Innovation Award Winner)
● Orbisk: AI powered, fully automated food waste monitoring using image recognition technology. Enables hotels and restaurants to reduce food waste up to 70%, improving sustainability and profitability.
● Tapp.online: Making paper smart and interactive by integrating sensors, printed batteries and microchips. 100% recyclable paper measures, remembers and transmits temperature, shocks and humidity data throughout the supply chain.
● TXTOmedia: Automatically transform an organization's existing, text-based support content into dynamic how-to videos and interactive media at scale.
● WasteShark: An autonomous aqua-drone that cleans pollution from waterways and collects water quality data. (CES Innovation Award Honoree)
HEALTH AND WELLNESS:
● AirBliss+: The most comfortable, smart anti-pollution mask for consumers and businesses.
● Absolute Audio Labs: Powering high definition speech and audio for hearing aids and hearables. (Scaleup and CES Innovation Award Honoree)
● AlphaBeats: An app that turns your smartphone or wearable device into a biosensor; AI-powered biofeedback signals enhance your favorite music — as you relax, music fidelity increases.
● CAREANIMATIONS: Solutions to enable care providers to provide patients with reliable, easy-to-access and easy-to-understand personalized information about medicine and related diseases to improve compliance. (Scaleup)
● Dutchbudz: Next generation wearables, optimized for wind- and noise-proof voice communication, hearing assist and pro level HD audio. Featuring dual drivers, fusion of air and bone conduction, hearing aid DSP and biometric sensors.
● Founda Health: Founda enables healthcare to collaborate and innovate by offering a platform that exchanges data between healthcare IT systems and external applications. Last mile integration into the clinical workspace without set up fees.
● Picoo: Picoo is the first game console for outdoor play, providing screen-free and interactive gaming for children ages 6-12.
● LifeSense Group: Digital health continence solutions using wearable sensors and smart textiles. (Scaleup)
● Lumaflex: Supercharge your body. Boost performance and accelerate recovery through the power of light. FDA cleared red light therapy, muscle recovery and pain relief.
● LoCoMoGo: The toy train that teaches children coding through play.
● Nostics: Instant, accessible and reliable testing for viruses and bacteria, including a three-minute Covid-19 test.
● ​​NOWATCH: The world's first 'awareable.' NOWATCH measures your stress 24/7 through EDA and predicts your mental state one hour in advance. The unique sleep, stress and activity algorithms increase your health and performance.
● Scentronix: Creating one-of-a-kind perfumes for every human. Algorithmic Perfumery is the AI-supported personalized perfume platform.
● Sencure: Enabling a new generation of medical wearables that are smaller and more accurate through chips and supporting technology.
● Steambox: The Self-Heating Lunchbox. Enjoy a hot meal anywhere, anytime. Rechargeable | Smart | Steam.
● TAEM.io: Gamified app that maps talents, skills and culture, boosts productivity and growth, pulses engagement and team well-being, wherever you work. The ultimate Future of Work tool for a healthy workplace.
● Tover: Founder of the Tovertafel, the world's only scientifically proven dementia care system. An innovative tool that uses serious games to improve quality of life, care and staff happiness. (Scaleup)
SMART CITIES AND SMART HOMES:
● Insmart: Reinventing HVAC maintenance using NB-IoT technology for remote monitoring, making predictive maintenance affordable and lowering energy costs for consumers.
● PeopleFlows: Introducing the Privacy-by-Design Mobile-Data-Vault, enabling private individuals to unlock their digital future and retain control over their data.
● Tekle Holographics: Our holographic solution brings images and videos to reality in a fast and inexpensive way. The use of holographics in business offers unlimited possibilities. The metaverse is already here today. (Scaleup)
● Urban Mobility Systems: A developer and manufacturer of BEVs (battery electric vehicles) and electrification systems for construction equipment enabling zero-emission transport and construction. (Scaleup and CES Innovation Award Honoree)
● VideowindoW:Transform any glass façade into a transparent video screen for dynamic glare control. Add experience, reduce CO2, increase revenue. (CES Innovation Award Winner - Best of Innovation)
SMART MOBILITY AND VEHICLE TECH:
● Brekr: Model B, a highly customizable electric bike with a classic, rugged design.
● Hardt Hyperloop: A world where distance does not matter — a 10,000 kilometer hyperloop network crossing national borders. (Scaleup)
● E-LIFT: Your one stop shop for personalized, customizable charging stations. Driving the future of mobility and energy.
5G AND INTERNET OF THINGS:
● Addoptics: Manufacturing of micron accurate and nanometer smooth optical components using 3D printing technologies and optical casting.
● Capte: End-to-end multi-industry IOT solutions focused on helping transportation companies with mixed multi-brand fleets to transit towards clean energy vehicles while keeping TCO low, and passenger satisfaction and driver performance high.
● Dimenco: Simulated Reality – interacting with 3D objects in a virtual environment, without the need of any wearables. (Scaleup and CES Innovation Award Honoree)
● EZ Factory: A software platform to digitize and visualize checklists, autonomous maintenance tasks, audits and work instructions to optimize operational effectiveness and efficiency of factory floor operations.
● InPhocal: A unique, concentric laser beam that reduces the need for ink and is 2.5 times faster than printing. (CES Innovation Award Honoree)
● TokenMe: Design and development of sustainable, highly accurate sensors and wearables with long lasting battery. The anonymous data can be used for contact- and asset-tracking and analyzing virus infections (e.g., Covid-19).
AI, ROBOTICS AND QUANTUM COMPUTING:
● Avular: Accelerating the creation of advanced mobile robots and drones. Our product, The Essentials, greatly simplify robot development and are the world's first solution of modular hardware and software building blocks. (Scaleup and CES Innovation Award Honoree)
● BrainCreators: Digital Inspectors that reduce cost and improve consistency at an unrivaled speed. Human inspectors can now train their digital counterparts on our award-winning AI-powered software. (Scaleup)
● EdgeFlow (by EdgeLeap): A completely new way of uncovering trends with AI "Insight Finding Robots'' instead of search engines to help enterprises stay ahead of the curve while developing new products.
● Datacadabra: Supplies intelligent digital assistants that empower people facing complex tasks in the economic, social and sustainable transformation humanity is facing today. (Scaleup)
● DeltaProto: Introducing a proven game-changing process for making proto-PCBA by patented pick & place co-bot. No setup time and enabling assembly in minutes.
● Lalaland.ai: AI-fashion models with real emotions. e-Commerce brands can make their models as diverse and one-of-a-kind as their target audience.
● Mission Control Lab: The creators of Inventure Kits (invention + adventure), educational STEAM boxes with all of the materials inside.
● SenseGlove: Force and haptic feedback gloves that enable professionals to physically interact with virtual objects for VR training and research purposes. (Scaleup)
DATA SECURITY AND BIG DATA:
● Red Kubes: An Enterprise-grade Kubernetes-based platform with developer self-service and ready-to-use built-in applications to offer an out-of-the-box experience.
"The NL Pavilion companies showcase our innovative Dutch skills and entrepreneurial spirit for tackling some of the world's toughest societal challenges to find global solutions – not only in consumer technology, but also in fighting climate change, digital health, water management, agtech, smart mobility and creating circular economies," added Dirk Janssen, San Francisco-based Consul General of the Netherlands. "The Netherlands is renowned for art and design as it stimulates critical, out-of-box thinking and creativity just as tech innovation does. Solving global challenges requires us to think differently and that's something we wanted to highlight in the NL Pavilion, too."
Interested media and analysts, please contact NLatCES2022@wearemgp.com to schedule an interview during or after CES 2022.
About The Kingdom of the Netherlands
The Netherlands strives to solve societal and economic challenges with local and international partners. This innovative country ranks fourth on the World Economic Forum Global Competitiveness Index, sixth on the Global Innovation Index, and Amsterdam ranks as the number three startup ecosystem in Europe. As a trading nation, the Netherlands has continuously ranked as one of the top four foreign investors in the United States for multiple years. More than 825K jobs in the U.S. are the result of the strong economic relations with the Netherlands. Learn more at http://www.NLintheUSA.com.
Through Holland in the Valley, the Dutch ecosystem in the Bay Area, the Consulate General of the Netherlands in San Francisco empowers Dutch entrepreneurs and talent to innovate and scale in the US by offering a network, content and programs.
The Dutch participation in CES2022 is organized by the Netherlands Ministry for Economic Affairs and Climate Policy, in collaboration with the Ministry for Foreign Affairs, Netherlands Enterprise Agency (RVO) and other agencies.
All trademarks used herein are the property of their respective owners.
###
Media Contacts:
Mindy M. Hull / Allie Gavan / Kayla Bortak
Mercury Global Partners for Kingdom of The Netherlands and Netherlands Pavilion at CES2022
NLatCES2022@wearemgp.com
Tel. +1 415 889 9977 / +1 415 987 7147 / +1 305 697 0027