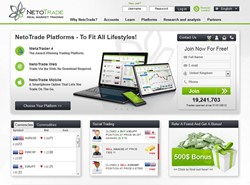 (PRWEB UK) 6 August 2013
The site welcomes customers to NetoTrade, provides comprehensive product information and free forex education. NetoTrade offers exceptionally low spreads, leverage of up to 1:400, a free training course and dedicated customer support.
As part of its revolutionary design, the website suits the most recent browsers and does not require the installation of additional plugins. This increases its accessibility and simplifies the user experience.
The website keeps users updated on the most recent news on NetoTrade and the forex market. The "Research and analysis" page consists of market news, technical analysis and signals, and forex articles. Thus, clients can gain from accessible, high-quality content. This is an outcome of surveying clients and taking their responses into account.
The new website allows making an informed decision by providing customers with comprehensive information on the company, its competences and the forex market. Since its introduction, the website received positive feedback from the company's clientele, partners and members of the forex industry. This is reflected in higher traffic, account openings and revenues.
To learn more about NetoTrade, visit our website: http://www.netotrade.com
About NetoTrade
NetoTrade is a global Forex and investment brokerage specialising in currency pairs and CFDs. NetoTrade serves a diverse, expanding clientele from all over the world. As a significant member of the financial community, NetoTrade is known for its advanced trading tools, knowledgeable investment specialists and superior service quality— not only in Europe and Asia, but also in emerging markets like Latin America and Eastern Europe.