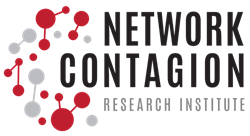 This report is a positive first step in helping to identify, accurately understand, and to start combatting antisemitic behavior.
PRINCETON, N.J. (PRWEB) December 16, 2020
The Network Contagion Research Institute (NCRI), in partnership with Rutgers University Miller Center for Community Protection and Resilience, today released what could be the most extensive study ever conducted on the subject of antisemitism: Antisemitic Disinformation – A Study of the Online Dissemination of Anti-Jewish Conspiracy Theories. The NCRI examined more than 237 million comments across four web communities to quantitatively demonstrate how antisemitic disinformation and anti-Jewish conspiracy theories are spreading online while highlighting the impact this disinformation is having on organizing antisemites while promoting coordinated activities against the Jewish community.
Specifically, the NCRI's research concluded:

Conspiratorial depictions of Jews reliably emerge in extremist communities online and are often camouflaged as conspiracy theories about individuals (i.e. George Soros and President Donald J. Trump)
Members of extremist online communities disseminate anti-Jewish disinformation in advance of and during elections, inaugurations, foreign interventions by the U.S., and domestic terror attacks
Russian trolls disseminate the same anti-Jewish conspiracy memes and themes online – and at the same time – as members of extremist communities
Anti-Jewish disinformation by conspiracy groups such as QAnon peaked on Twitter at the onset of the Floyd social justice protests in May 2020 and remains higher now than before the coronavirus pandemic
Anti-Jewish conspiracy theories appear not only in extremist online communities but also on mainstream online platforms, especially during civic unrest and transitions of power
Representative Denver Riggleman, Virginia 5th District, was integrally involved in the development and review of the NCRI report. Riggleman's is a known supporter of the Jewish community on issues surrounding Israel, foreign policy and national security matters.
Riggleman commented, "this is groundbreaking research that should elevate antisemitism as an issue of grave national and global concern. The themes presented in memes and content across online communities promotes the notion that Jews are subhuman and do not deserve to be treated with the same dignity as real human beings. This report is a positive first step in helping to identify, accurately understand, and to start combatting antisemitic behavior."
In a foreward by renown academic and director of the James Madison Program in American Ideals and Institutions at Princeton University, Robert P. George wrote, "I heartily endorse the report and commend it to you because the facts set forth in the report persuade me of the need to take seriously – both the threat to the Jewish community, and the threat to all that is honorable and decent."
George continued, "we need to alert men and women of goodwill of every faith and shade of belief to the reality of what is going on in the cyber world so that they can join those of us already in the fight against the "new" antisemitism. As you will see from the report, it is not too early to put out the call for "all hands on deck."
The NCRI Contextus Platform collects billions of posts and millions of images from fringe and Mainstream websites in close to real time. Then they are analyzed using artificial intelligence. As a result, the NCRI has emerged as one of the leading authorities in the world. In fact, just before the tragic events at the Tree of Life Synagogue in Pittsburgh, Pennsylvania, NCRI's first report warned of a near doubling of antisemitism, white supremacy, and other forms of ethnic hate boiling to the surface within the very fringe web communities the shooter was actively engaged in.
To review the new report, to view past NCRI reports, or for more information about the Network Contagion Research Institute, visit networkcontagion.us