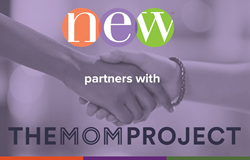 "Our research shows 2 factors influence a woman's intent to stay with a company: A feeling of belonging & the ability to achieve long-term career goals," said NEW President and CEO Sarah Alter. "Our partnership with The Mom Project is aimed at helping organizations retain & advance talented women."
CHICAGO (PRWEB) February 28, 2019
Network of Executive Women, a non-profit organization whose mission is focused on advancing all women, is announcing a partnership with The Mom Project. NEW and The Mom Project share a vision of building more flexible and authentic workplaces that support professionals building careers and families. The Mom Project is committed to helping women remain active in the workforce at every career pivot point.
Key initiatives of the partnership include NEW and The Mom Project joining forces to advance gender parity, improve flexible work opportunities for women and men with families and demonstrating to companies the key steps they must take to retain women.
NEW produces critical research and actionable intelligence, such as the "NEW Blueprint for Gender Equality," which provide processes for organizations to transform and drive change from the top down and bottom up. NEW solutions provide career-accelerating learning for women, deliver unique insights on women in the workplace, partner with C-Suite leadership to advance women and empower women where they work and live.
"Our research shows two factors influence a woman's intent to stay with a company: A feeling of belonging and the ability to achieve long-term career goals," said NEW President and CEO Sarah Alter. "In both areas, companies are falling short. Our partnership with The Mom Project is aimed at helping organizations retain and advance talented women to reap the many business benefits of women's leadership in a gender diverse and inclusive workplace."
The Mom Project has developed a predictive methodology, called Personal Investment in Role (PIR), to identify drivers of employee retention and link them to corporate ROI. The Mom Project and NEW are partnering to develop PIR industry benchmarks for consumer goods, retail, financial services and technology.
Additionally, individual companies may get their own PIR Score. The Mom Project and NEW are offering the PIR Score to NEW corporate partners at qualifying levels as a benefit of partnership.
Companies are at differing junctures in their efforts to bring full gender equality into their workplaces. The PIR Score will enable organizations to benchmark themselves, focus their efforts on the retention drivers that matter most and quantify the success of their diversity and inclusion efforts.
Affiliates of The Mom Project will have access to a reduced NEW membership fee of $99. NEW Title and Foundation corporate partners and Future Fund donors will have the opportunity to receive their own company PIR score.
To demonstrate The Mom Project's commitment to NEW and its members in 2019, the organization will offer all NEW corporate partners that sign on to support the Women's Work Initiative — The Mom Project's program designed to maximize female workforce participation — exclusive program rates and special benefits.
"We are thrilled to join forces with NEW to move the needle on gender parity in the workplace," said Allison Robinson, founder and CEO of The Mom Project. "The ability to provide companies with tools to objectively assess the impact of their diversity and inclusion efforts is key to making gender parity a reality. Companies have the power to impact real change when it comes to parity. Providing them with data and insights to prove out their D&I efforts gets us one step closer to creating a better, more equitable workplace for all."
In addition to leveraging the Personal Investment in Role model, NEW and The Mom Project will coauthor a research paper and present their findings at future conferences. NEW and The Mom Project's partnership will activate our powerful and growing communities.
ABOUT NEW
Founded in 2001, the Network of Executive Women represents more than 12,000 members, 900 companies, 115 corporate partners and 22 regions in the U.S. and Canada advancing all women and building business. For more information about NEW and its learning programs, events, content and insights, visit http://www.newonline.org. Connect with us on social media @newnational.