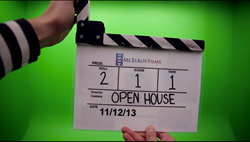 "Our new office is a testament to how well we have utilized our network of businesses over the years," said Benjamin J. McElroy, owner and executive producer.
Boston, Ma (PRWEB) November 22, 2013
McElroy Films' Small Business Networking Event a Success
After unprecedented growth over the last year, Boston-based video production company, McElroy Films LLC, needed to expand and so they moved to their new home, 99 South Bedford Street last month.
"Our new office is a testament to how well we have utilized our network of businesses over the years," said Benjamin J. McElroy, owner and executive producer. "We wanted to celebrate our success with those that helped us and threw an open house party for nearby businesses, big and small, to meet and greet. I think it went extremely well."
For a small business, the ability to network effectively is an essential tool for success, especially for growing businesses like McElroy Films, a boutique video production company in Burlington, MA. Burlington is home to countless corporate American industry headquarters. For McElroy Films and other small businesses, networking is essential for building connections and exchanging business cards with potential referral sources. As a video production company, McElroy Films strives to combine modern technology and marketing strategies with traditional networking and selling practices.
As members of the BNI Middlesex Money Makers, Christine Kent, Corporate Sales and Marketing Director at McElroy Films understands the importance of getting her company's name out into the public and various business spheres. Thankfully, video acts as a refreshing conversation starter and leads into a dialogue that allows her to learn about large varieties of businesses.
"My primary focus is to continue to learn about existing businesses and help them to develop strategic ways to introduce video into networking and greater business practices," Christine explained.
Small businesses can have apparent disadvantages when compared to larger firms, but creative thinking can help turn a disadvantage into a useful tool. Local owner of the Burlington EmbroidMe, Rick Parker, uses his free time wisely as a member of multiple networking organizations including the BNI Middlesex Money Makers and The Burlington Chambers of Commerce.
"Small businesses offer convenience, customized service and a face-to-face relationship with customers that large organizations cannot compete with," Rick said.
According to Invodo.com, 70% of large corporations understand the importance of video but only 50% have implemented the use of online content, leaving room for small businesses to capitalize on the opportunity to create loyal consumers and audiences.
McElroy Films assists businesses and non-profits large and small to use video to its fullest potential by working with each client to create effective video communications that can easily be displayed everywhere from events, to mobile devices, as well as social media pages and websites. Videos are trending as a business norm, whether video content is used for marketing, selling, or informational purposes, businesses and non-profits are gravitating towards this use of direct communication to entice and engage their target audience.
Businesses like McElroy Films, are thriving as a result of the growing number of online consumers stumbling upon relevant video content while using search engines such as Google, Bing, and YouTube. Videos optimized with keywords and descriptions can serve a business at all hours of the day, even when marketing employees are asleep. Well-produced video content can hold a potential customer's attention longer and describe a business' goods and services more concisely than paragraphs of text and pictures. Over the last 2 years, McElroy Films has received an influx of new inquiries as a result of carefully placed videos that direct potential clients to the firm's website.
"As a marketing professional, I spend less time on cold-calling potential clients," Christine explained. "I try to focus my attention on networking in groups like BNI, as a large portion of our new clients come to us through our website."
About McElroy Films
McElroy Films LLC is a professional producer of high definition video for corporate, educational, non-profit, wedding, music video, and independent film use. Serving the Massachusetts and New England area, McElroy Films' mission is to keep high definition video affordable without sacrificing quality. Ben McElroy and his staff take pride in their client-first approach and personalized attention to every project.