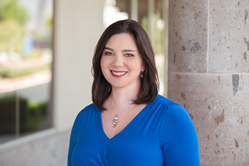 Dr. Bedient is one of fertility medicine's rising young stars, and we couldn't be happier that she has seen the value of investing in Ovation's innovative approach to reducing the cost of achieving a live birth through more efficient and effective fertility care. -Nate Snyder, CEO, Ovation Fertility
LAS VEGAS (PRWEB) June 05, 2019
Ovation® is pleased to announce that it has welcomed a new physician shareholder: Carrie Bedient, MD, of world-renowned The Fertility Center of Las Vegas. Dr. Bedient is Southern Nevada's only female board certified reproductive endocrinologist and provides fertility care for both women and men from Las Vegas and around the world. Including the recent addition of this Nevada fertility specialist as a shareholder, Ovation now has a total of 24 physician partners nationwide, all of whom have elected to combine their talents with those of reproductive medicine's top scientists to deliver some of the most advanced, cost-effective fertility treatment available anywhere in the world.
"Dr. Bedient is one of fertility medicine's rising young stars, and we couldn't be happier that she has seen the value of investing in Ovation's innovative approach to reducing the cost of achieving a live birth through more efficient and effective fertility care," says Nate Snyder, Ovation's chief executive officer. "The Fertility Center of Las Vegas has long been a valued Ovation partner, and its physicians are widely recognized for their research, innovative procedures and exceptional pregnancy rates. The contributions of outstanding young physicians like Dr. Bedient are the lifeblood of our company, now and in the future."
Dr. Bedient is a graduate of the University of Arizona College of Medicine and performed her residency at Case Western Reserve University and Cleveland Clinic Foundation Metrohealth Medical Center. She then completed fellowship training in reproductive endocrinology and infertility at Emory University before moving to Las Vegas to become a Nevada fertility specialist.
Dr. Bedient serves as a clinical assistant professor of obstetrics and gynecology at the University of Nevada School of Medicine; is a faculty member of the OB/GYN residency at the University of Nevada, Las Vegas; and is an adjunct faculty member at the Las Vegas Minimally Invasive Surgery and Women's Pelvic Health Center. She is also the director of reproductive endocrinology and infertility at the Mountainview Hospital obstetrics and gynecology residency program in Las Vegas.
About Ovation Fertility
Ovation® Fertility is a national network of reproductive endocrinologists and scientific thought leaders focused on reducing the cost of live birth through more efficient and effective fertility care. Ovation's IVF and genetics laboratories and affiliated practices work collaboratively to raise the bar for IVF treatment, with state-of-the-art, evidence-based fertility services that give hopeful parents the best chance for a successful pregnancy. Physicians partner with Ovation to offer their patients advanced preimplantation genetic testing. Ovation also provides donor eggs that come with the world's first Euploid Embryo Guarantee®, as well as secure frozen egg, embryo and sperm long-term storage; consultative services to help IVF laboratories improve quality and performance; and fertility preservation programs that enable more women to freeze their eggs and build future families. Learn more about Ovation's vision of a world without infertility at http://www.OvationFertility.com.