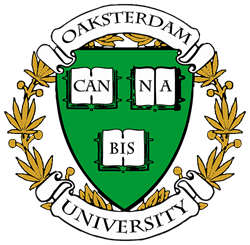 Las Vegas, Nevada (PRWEB) June 12, 2015
Nevada State Senator Tick Segerblom will visit Oaksterdam University's Las Vegas Cannabis Job Fair this Sunday, June 14 at 1:00 pm. Sponsored by Nevada-based cannabis company Green Therapeutics, the Job Fair doors open at 12:00 Noon. The Job Fair ends at 6:00 pm.
Cannabis Industry Movers and Shakers from many disciplines, including cannabis cultivation, production, dispensary, and testing will make presentations and be available for one-on-one discussions. Local cannabis companies will have booths set up for job seekers as well.
Held at the Plaza Hotel & Casino in downtown Las Vegas, the Job Fair will be on the 3rd Floor, Ballroom 9, right next door to the Oaksterdam University Cannabis Business Seminar in Ballroom 8.
The Cannabis Business Seminar began today at 10:00 am and goes through Monday, June 15. Attendance is sold out. Topics covered during the seminar include: Politics & History of Cannabis, Local, State & Federal Law, Legal Rights & Responsibilities, Indoor Horticulture, Methods of Ingestion, Science of Cannabis, Economics & Opportunities in the Industry, Advocacy, Patient Relations, Procurement & Allocation, Dispensary Operations & Management, Legal Business Structures.
About Oaksterdam University: Since 2007, Oaksterdam University has been a forerunner in providing the highest quality training to people interested in a career in the cannabis industry and the first institution to address the growing needs of the marijuana movement, from patients to regulators. Our faculty is comprised of professionals, academics and entrepreneurs, and OU alumni—over 20,000 who have received training regarding cannabis and marijuana policy reform—are the most active in the world.