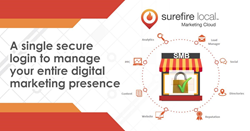 We have created a simple, unified platform that gives full control of digital marketing to the business owner, Chris Marentis, CEO/founder of Surefire Local
Tysons, VA (PRWEB) May 16, 2017
Surefire Local has released the Surefire Local Marketing Cloud, the first local marketing automation system. This easy-to-use platform is the solution for local business owners who want a comprehensive overview of the most essential elements of their digital marketing presence.
Built exclusively for hyper-local businesses and enterprises with multi-location franchisees, dealers and distributors, the Surefire Local Marketing Cloud consolidates digital marketing activities – from Google AdWords campaigns and organic search to email marketing, social media and even reviews – into one tool with a single, secure login. Cloud users can utilize the dashboard to quickly manage and act on customer leads.
The Surefire Local Marketing Cloud offers the following features to accelerate digital marketing success:

Advertising: Quickly start campaigns from Google AdWords, Facebook and more
Mobile Lead Management: Receive lead notifications on any smartphone phone and trigger an automatic drip email marketing campaign
Content Publishing: Workflow to manage and publish new website & social media content
Online Visibility: Build a larger web footprint for any business by creating business listings across 70+ directories, instantly make changes, and publish new or seasonal offers
Reputation Management: Increase reviews from customers with a reputation management tool that allows staff to monitor and respond directly to reviews
Analytics & Benchmarking: Know which channels are giving the most return and how the business is performing against competitors
The Surefire Local Marketing Cloud centralizes all leads from phone calls, web forms and reviews in one unified tool, along with Google Analytics and Google Search Console. The powerful engagement and reporting features then allow for smarter decision-making.
"What's most exciting about the Surefire Local Marketing Cloud is that it gives local businesses one secure login to access everything they need to operate online, saving them valuable time," said Chris Marentis, CEO and founder of Surefire Local. "We have created a simple, unified platform that gives full control of digital marketing to the business owner." Learn more about it from Chris in our video here.
What are Customers Saying:
"We've recently begun using the Surefire Local Marketing Cloud and have found it extremely useful in the day to day running of our company's online presence," said Mike Slovin, Marketing Manager at Homecraft, Inc. "The ease of managing our reviews through the reputation page is second to none. The new cloud has even helped me cut down the total time I spend daily on checking out all the different aspects that I monitor by accumulating everything I need to view into one site. Also, the ability to directly manage our lead flow through the interface is quite helpful. I can't wait to be able to utilize the feature that will send leads directly to my iPhone."
The Surefire Local Marketing Cloud is rebranded from SurePulse, the name for the beta version of the platform. Learn more and get a demo of this powerful marketing tool.
About Surefire Local
Established in 2009, Surefire Local provides simple, accessible and cost-effective new customer acquisition products and services to help business owners reach their local customers more effectively. It has emerged as a top local marketing technology company and a top Google Premier Partner for home improvement businesses, medical practices and franchise owners. Large manufacturers like GAF, Renewal by Andersen, Wellborn Cabinets and Louisiana-Pacific also partner with Surefire Local to provide preferred local digital marketing services to their dealer and distributor networks. Surefire Local has been included on the Inc. 5000 List of America's Fastest Growing Companies for three years in a row. More at http://www.SurefireLocal.com or on Facebook: https://www.facebook.com/SurefireLocal/.
###