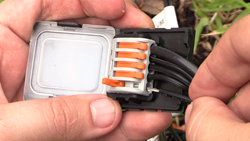 We listened to our customers, took their suggestions to our Innovation Lab and made improvements to existing products.
Tamps, Florida (PRWEB) July 19, 2016
VOLT® Lighting, leading factory-direct lighting manufacturer, is well known for its premium lines of landscape lighting fixtures, transformers, tools, and accessories. The most recent innovations include more efficient and robust installation products and tools. This is generating significant interest in the professional landscape lighting community.
Michael Breedlove, Director of Innovation & Manufacturing, explains why the company focuses on installation items, "From the beginning, we recognized the need to supply everything an installer needs to complete an installation. This applies to both determined do-it-yourselfers and lighting professionals. We started by using the same types of tools, connectors, and accessories common to the market. But over the years, we listened to our customers, took their suggestions to our Innovation Lab and made improvements to existing products - and invented new ones."
Among the new inventions, use of Clamp-Connects is perhaps the most significant. These are wire connectors that employ a 'cage clamp' instead of set screws or twist devices. A cage clamp consists of a small lever that compresses a metal plate onto a wire – resulting in a much stronger connection than with other types.
Alan Brynjolfsson, VOLT® President/CEO, comments, "These clamp-connects have a very strong metal-to-metal contact to ensure a tight connection. The wire can be pulled extremely hard and it will not pull out or wiggle. We took an existing industrial connector (with 30-years proven success) and custom-designed it to adapt to outdoor, low voltage landscape lighting applications. With LEDs, the new weak point in systems is the wire connection not the lamp. We wanted to innovate a new type of connection that would match the longevity of LEDs.
These Clamp-Connects have been applied to three VOLT products – the Pro Junction Hub, Pro Micro-Junction Direct Burial Connector, and Clamp-Connect Transformers. Each of these are unique inventions and result in easier, faster and more robust installations. Since they save time, professional installers also save money.
Another new invention is the VOLT Gutter Mount Kit. This is a simple bracket (with coupling accessories) used to attach lighting fixtures to house gutters and rooflines. Installing lights on gutters is essential when designers need to illuminate upper stories and gables. In the past, attaching these lights was difficult and time-consuming. The new VOLT® product makes it easy and fast.
Attaching lights to flagpoles has also been an installation challenge. Existing clamps and other devices have been hard to install, may damage the flagpole, and are unsightly. VOLT's new Flag Pole Mount has a simple and sturdy design that attaches in minutes.
Breedlove summarizes VOLT's focus on installation inventions, "The beauty of landscape lighting is that it is, by its nature, easy to install. Still, if we can make it even easier and faster, then quality landscape lighting becomes even more accessible, less time-consuming, and less expensive. The ultimate result is that professionals can reach more homeowners, and the artistry of landscape lighting can spread."
VOLT Lighting products are only available through http://www.voltlighting.com.
__________________________________________________________________
About VOLT Lighting
VOLT Lighting is the leading factory-direct manufacturer of landscape lighting products. With an aggressive product development program, the company continues to innovate, inspire, and support the outdoor lighting market. For more information, go to http://www.voltlighting.com or call 813-978-3700.