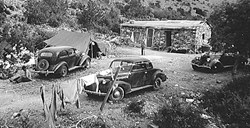 Las Cruces, New Mexico (PRWEB) September 29, 2013
When John Clarence was first approached about the project of writing about Victorio Peak he said, "I really wasn't going to do the job, but then I started looking at the material." During his initial investigation he met Tom Whittle and together they authored the Gold House Trilogy.
The series begins with the Discovery. In a stone structure in the Hembrillo Basin, Doc and Ova Noss lived hunting wild game, cooking their meals, and drawing from a nearby spring to later explore for treasure. In November of 1937, according to the Gold House Trilogy, Doc found an abundant treasure of an immense worth in Victorio Peak. Unfortunately, the book details how Doc lost his life murdered by a business partner.
Thereafter Ova Noss carried on to find a way to be the legal owner of the treasure. During this time, after the death of Doc Noss, she encountered several parties attempting to jockey her out of position. "The Lies, The Thefts," moves the reader into the world of conspiracies and dark characters wanting to take the gold for themselves. John Clarence says, "The Gold Reserve Act pretty much says that a citizen cannot own or trade any gold. So how could Ova claim that treasure as hers? How could anyone come forth? Could the government? That is what we explore in this book."
According to authors John Clarence and Tom Whittle, a military program to locate and remove the gold on behalf of the U.S. government on the White Sands Missile Range (where Victorio Peak is located) began. On numerous attempts the Noss family was barred from any information about the location, until late in century when they received permission to go to the place where Doc Noss allegedly found the treasure. This starts the book "Executive Order" of the series- "When the family received authorization to dig from President George Bush, Sr., John Clarence says," numerous ancient items were found, but the treasure was gone."
So where is the treasure? Who has it? Legends of gold are not uncommon in New Mexico history; some argue gold from elite Mexican families in Texas who left for Mexico during the Mexican-American War may still be in the mountains they passed either for safe keeping or because someone looted their caravan. Others argue it is the treasure of french nobleman Emperor Maximilian I of Mexico, who short-lived a monarchy before being put to death in a coup. In any case, the Gold House Trilogy explores what happened after the discovery of Doc and Ova Noss in 1937.