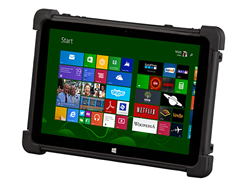 It's a very sleek device but it's rugged enough to withstand mobile business use with your typical bumps and drops, while improving your productivity.
Hiawatha, IA (PRWEB) August 13, 2014
MobileDemand today announced the sub-$900 xTablet Flex 10 Windows 8.1 tablet, the second tablet in a series in 2014 and the thinnest/lightest to date. With this launch, MobileDemand has the ability to deliver productivity improvements to an increasingly wide-ranging set of customers. The xTablet Flex 10 with its rugged case is a purpose-built tablet that is designed for mobile workers involved in field service, field sales, delivery and retail. MobileDemand is now a one-stop shop for a choice of tablets that fit the needs of a variety of applications, offering the new xTablet Flex 10 thin and light rugged tablet weighing under a kilogram (2.2 lbs.), to the new xTablet T1400 thin and light with ruggedness built-in, to the fully rugged xTablet T7200 and xTablet T1200 models.
Business-Loaded, Unique Features Set the xTablet Flex 10 Apart — The xTablet Flex 10 has many business features which set it apart from consumer-grade tablets, as well as the competition. It has an Intel BayTrail-T Z3770 processor, Windows 8.1 Professional, an HD resolution 1920x1200 display, 4GB RAM and 64GB eMMC drive to provide business level performance to get the job done. It has one full size USB 3.0 connector for direct connection to USB peripherals without requiring adapters. And finally, the xTablet Flex 10 is equipped with WiFi 802.11a/b/g/n and Bluetooth 4.0 including WiFi internet sharing via smart phones or MiFi modules for LTE access.
Designed for the Mobile Worker — The new device is not only a powerful PC itself, but comes standard with many of the accessories pre-assembled. Typically for this class of tablets, one would have to research and pay extra for these accessories from third parties. The rugged case has two layers for drop protection. The first layer is rubber with bumpers similar to what's found on other fully rugged MobileDemand tablets. The second layer is a high impact polycarbonate case that holds the rubber layer in place, but also provides mounting details for critical user carrying accessories including a back hand strap, a briefcase handle, a stylus holder, I/O door cover, and a MiFi pouch. MobileDemand also applies an innovated glass screen protector that is scratchproof and has a coating to reduce finger prints and make water bead and run off of the touch panel.
Greater Versatility with Windows 8.1 Professional — One common complaint heard among users of tablets running non-full versions of Microsoft Windows is that they wish the device had greater functionality and would integrate easily within their corporate IT architecture and security. The xTablet Flex 10 runs either Windows 8.1 or 8.1 Professional, pleasing the IT staff.
Rugged Right Out of the Box — It's ready to go. The factory-installed case is going to give the user MIL-STD-810G for shock and drop from 4 feet while the screen protector can withstand a 10 oz. (280g) steel ball drop from 2.6 feet (80cm) and provides scratch proof protection. Equip enterprise workforces with a rugged tablet that can withstand accidents on the job.
Backed by Superior Support and Service — The xTablet Flex 10 comes with a 1-year warranty with optional extended coverage.
"We're excited to bring yet another great tablet solution to the market. The xTablet Flex 10 business performance and ruggedness at under a kilogram is a testament to the power and efficiency of this Windows tablet", said Jon Rasmussen, Senior Director of Product Development at MobileDemand. "It's a very sleek device but it's rugged enough to withstand mobile business use with your typical bumps and drops, while improving your productivity."
Pricing:

$845 fully configured with Windows 8.1 Pro, rugged case, screen protector, briefcase handle, back hand strap, 4GB RAM, 64GB drive, WiFi, Bluetooth
$695 fully configured with Windows 8.1 with Bing, rugged case, screen protector, briefcase handle, back hand strap, 4GB RAM, 64GB drive, WiFi, Bluetooth
About MobileDemand
MobileDemand is the nation's leading provider of rugged PC systems used in the transportation industry to improve productivity, anywhere. MobileDemand devices are used by mobile workers in many other industries including Oil and Gas, Food and Beverage Distribution, Manufacturing, Retail and Field Service to cut operational costs and improve customer service. MobileDemand ruggedized PCs range from semi-rugged to military rugged and sealed to meet the performance you need for your work environment. They deliver the power, reliable performance and long-term savings companies need to achieve greater efficiency and productivity in the field. In 2013, MobileDemand earned the position of 800 on the Inc. 500/5000 list of the nation's fastest growing private companies. The company has built its success on a commitment to innovation everywhere – in product design, customer relationships and in its channel. MobileDemand. Innovation everywhere. Productivity anywhere. Additional information is available at http://www.RuggedTabletPC.com.