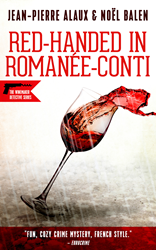 A light-hearted, fast read that is completely compelling.
New York, New York (PRWEB) September 27, 2016
Le French Book, a publisher dedicated to hand-picking and translating mysteries and thrillers from France, is preparing another fun read that combines food, wine, and travel guide into an enjoyable mystery set in French wine country. RED-HANDED IN ROMANÉE-CONTI is part of the entertaining Winemaker Detective series that appeals to readers who like mysteries with foreign settings, culinary flairs and historical facts. This popular, on-going series has been qualified as "addictive, delicious and decadent," and each book can be read as a standalone. the new title is now available for pre-orders.
The perfect wine, the perfect harvest… and the perfect murder?
When world-renowned wine expert Benjamin Cooker's elderly father needs him most, the erudite consultant and his dashing assistant Virgile Lanssien are called away to Burgundy to orchestrate the harvest. More than just picking grapes, the Winemaker Detective must keep a delicate balance between an old-time vintner and his heir as a catastrophic hailstorm endangers some of France's most celebrated wines. Adding insult to injury, the brutal and mysterious murder of a grape picker sends shock waves through the winemaking world and the small-town gendarmes find evidence incriminating Cooker. He and his trusty assistant put their sharp senses to work detecting clues and subtleties in the tight-knit community to find where the real killer is lurking.
In another satisfying wine novel with a French flair, authors Jean-Pierre Alaux and Noël Balen give readers a perfectly intoxicating combination of French wine, gourmet meals, and mystery in the gloriously described Burgundy wine region with all the scenery, scents, and sounds of France. This light, fun mystery combines amateur sleuths, food, and wine in a wonderfully French mystery novel that doubles as a travel guide. It is a new kind of read on the international mystery and crime scene: a pitch-perfect, wine-infused, French-style cozy mystery.
Le French has also posted an extended sneak preview to start reading it now.
Praise for the series
"Alaux and Balen offer intrigue and plenty of good eating and drinking... will whet appetites of fans of both Iron Chef and Murder, She Wrote" —Booklist
"Those who like detective stories that rely on the fine qualities of the investigator will find Cooker an enjoyable lead." —Publishers Weekly
"Unusually adept at description, the authors manage to paint everything.... The journey through its pages is not to be rushed." —Foreword Reviews
"A terrific series." —New York Times bestselling author William Martin
"A fine vintage." —Peter May
"This is definitely a book for those who like the finer things in life." —Writing about Books
"These stories are as much a celebration of France and its well-deserved reputation for quality wines and food, as they are an exploration of finely tuned, enticing mysteries." —My Shelf
"Decadent, delicious, and delightful, The Winemaker Detective series blends an immersion in French countryside, winemaking and gourmet attitude with mystery and intrigue." —Wine Advisor
"Masterful." —Star Tribune
"Skillfully manages to convey the clever elegance of the original authors." —Ellery Queen's Mystery Magazine
"Jean-Pierre Alaux and Noel Balen paint such a concise picture that you can taste the wines, the fine foods, and you are right there experiencing the scenery." —Futures Mystery Anthology Magazine
About Le French Book
Founded in 2011, Le French Book is an independent book publisher dedicated to handpicking, translating and publishing top crime fiction from Europe. For more information, please visit: http://www.lefrenchbook.com.
©2016 Le French Book, Inc. All rights reserved. Information is subject to change without notice.