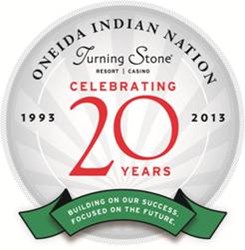 Oneida Nation Homelands (PRWEB) December 10, 2013
Turning Stone Resort Casino in Upstate New York today announced it will usher in 2014 with a one-of-a-kind New Year's Eve experience on Tuesday, December 31 with "The Party of the Decade - Every Decade." which will include an entire day full of spectacular events offering entertainment and excitement for those of every generation, interest and budget. Visitors to Central New York's top entertainment destination can welcome the New Year in memorable fashion at dozens of on-site events including a Frankie Valli and The Four Seasons concert, midday seniors' celebration, upscale dining options, late-night live bands and themed parties at Turning Stone's recently launched Exit 33 entertainment complex, and free entertainment at select locations throughout the resort.
Turning Stone's "Party of the Decade - Every Decade" New Year's Eve ticketed events will include:
1930's – 1950's and beyond:

Noon Year's Eve at Season's Harvest Restaurant will be a mid-day, senior-focused celebration from 11:00 a.m. – 3:00 p.m. Festivities will include lunch at the buffet and a balloon drop when the clock strikes twelve (noon as opposed to midnight).
Bingo's New Year's Eve – Dan Elliott & the Montereys play a mix of oldies from 1940's through today
Turquoise Tiger – "Great Gatsby" theme and décor featuring champagne, swing dancer, flapper performers and live music by Postmodern Jukebox playing war-era jazz and swing with a modern play list
1960's – 1970's:

Frankie Valli and The Four Seasons will perform at 8:00 p.m. in the Turning Stone Resort Casino Event Center singing chart-topping hits of their long career including "Big Girls Don't Cry," "Walk Like a Man," "Rag Doll," "Can't Take My Eyes Off of You," "Oh What a Night," and more. Concert guests receive a specially discounted $5 rate in The Showroom's New Year's Eve Dance Party immediately following the performance.
1970's – 1980's and beyond:

The Gig – Rock-n-Roll Tribute theme and décor with Gridley Paige and Goldy Locks rocking the stage
Showroom Dance Party – Soul Mine and Soul Injection play high-energy dance, funk and R&B
1980's – 2000's:

Tin Rooster – Country music Barn Party theme and décor with the popular Beadle Brothers
2000's – Future:

Lava Nightclub will host an elegant celebration with three DJs covering the best in EDM/Hip Hop/Rock/House.
Free Entertainment – Turning Stone will feature a variety of no-cost entertainment as part of its "Party of the Decade" celebration, including free shows at the Winter Garden, Emerald Lobby and Leopard Lounge, as well as strolling showgirls, stilt walkers and go-go dancers. Midnight balloon drops will delight guests throughout the resort, along with complimentary giveaways including festive hats and noise makers.
Fine Dining - Conveniently located on-site at Turning Stone Resort Casino are a variety of upscale dining options whose varied menus and ambiance will provide the perfect place to kick-off anyone's New Year's Eve celebration. Guests can have a quiet meal at the intimate Wildflowers, enjoy quality Italian fare at Pino Bianco, experience Peach Blossom's authentic Chinese and Thai cuisine, or take in the stunning views atop The Tower at TS Steakhouse.
Prime Rib Buffet Dinner – The Turning Stone Showroom will also feature a fantastic New Year's Eve prime rib buffet dinner from 4:00 p.m. to 8:00 p.m.
To learn more about the vast array of "Party of the Decade" New Year's Eve events taking place at Turning Stone Resort Casino, and to purchase your tickets, please visit http://turningstone.com/ or contact the Turning Stone box office at (315) 361-7469.
About Turning Stone Resort Casino
A premier four-season, destination resort in Upstate New York, the Oneida Indian Nation's Turning Stone Resort Casino is conveniently located about 30 miles east of Syracuse at NYS Thruway exit 33. Turning Stone was named "Most Excellent Golf Resort" in 2010 by Condé Nast Johansens. The Academy of Country Music named Turning Stone "Casino of the Year" in 2009. The resort offers world-class gaming, golf, entertainment, accommodations and spa facilities, and has earned AAA Four Diamond ratings for The Lodge, The Tower Hotel, and Wildflowers restaurant. For more information and reservations, call (315) 361-7711 or (800) 771-7711. Visit the web site at http://www.TurningStone.com.