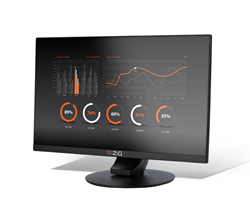 10ZiG COO Andy Martin, "This All-in-One is convenient for spacing and there is damage-control with operating features being tucked into the monitor itself. We listened to the market and made it fully compatible and efficient with VMware Blast Extreme."
SAN FRANCISCO (PRWEB) August 26, 2019
10ZiG Technology® is introducing its new, never-before-seen 7700q Series All-in-One Thin & Zero Client endpoints, featuring in-demand Blast Extreme support, at VMworld San Francisco today. The 10ZiG 7700q Series (Thin Client) and 7748q Series (Zero Client) will be available with PeakOS™ (Linux), Windows 10 IoT (W10 IoT), and NOS™ (Zero) for exceptional power, speed, performance, and convenience with VMware, Citrix, and Microsoft – supporting Blast Extreme, PCoIP, and HDX, and more.
Based on a fanless Intel Braswell x5-E8000 Quad-Core 1.04 GHz/2.00 GHz Burst CPU platform, the 7700q Series is the newest model to the 10ZiG lineup with its ultra-slim, stylish, 23.8" Full HD Display with LED backlight panel and two external up to 4K resolution monitor support, incredible all-in-one convenience, and powerful performance. Its sturdy compact foot stand tilts from -5 to 20 degrees and swivels an impressive -65 to 65 degrees. The slender 9.9mm, frameless bezel design offers a 250 nits and anti-Glare panel for super-comfortable reading, OSD multiple-support control button functionality, and enables lower power consumption, generally 20 W or less.
Says 10ZiG COO Andy Martin, "We've worked hard to bring this new product onboard and have geared up to demo it all week long at VMworld. Of course, this All-in-One is convenient for spacing and there is damage-control with operating features being tucked away into the monitor itself but, we really listened to the market and made it fully compatible and efficient with VMware Blast (Extreme). Our FREE demo offer also applies to the 7700q Series, which offers proof with a test-drive in your own environment."
New All-in-One Client Series Features

Quad-Core Intel Braswell x5-E8000 Processor
Operates at a Base Frequency of 1.04 GHx (2.00 GHz Burst)
23.8" Full HD Display with LED backlight panel (1920 x 1080)
2 x External Monitor Support up to 4K Resolution (1920 x 1080 DVI-D & 3840 x 2160 @30Hz DP)
Optional Wireless
Optional TAA Compliance
802.1x Network Authentication
FREE Centralized Mgmt. via 10ZiG Manager
About 10ZiG Technology®
10ZiG Technology is a world-market leader in Thin Client & Zero Client endpoint devices for Virtual Desktop Infrastructure. 10ZiG provides leading Intel and AMD based Dual and Quad Core Thin Clients and Zero Clients for VMware Blast Extreme & PCoIP, Citrix (HDX, HDX Premium, HDX 3D Pro), and Microsoft environments, in addition to the widest range of Teradici PCoIP Zero Clients on the market. 10ZiG offers free, no-obligation demo devices, Technical Support teams based in the U.S. and Europe, and provides at no cost, the Cloud-enabled "10ZiG Manager" Console with unlimited user licenses.
About VMworld US 2019:
For more information on VMworld San Francisco 2019, please see http://www.VMworld.com (10ZiG Technology will be exhibiting at Booth #867.)
Contact Us:
To learn more about cutting-edge VDI technology from 10ZiG, or to arrange for a FREE Thin or Zero Client demonstration device, please contact 10ZiG below.
Corporate Headquarters, US
10ZiG Technology Inc.
23309 N. 17th Drive #100
Phoenix, AZ 85027, USA
P. +1 (866) 865-5250 | Email: info(at)10ZiG(dot)com | Web: http://www.10ZiG.com
EMEA Headquarters
10ZiG Technology Ltd.
Unit S2, Troon Way Business Centre
Humberstone Lane
Leicester LE4 9HA, UK
P. +44 (0) 116 2148650 | Email: info(at)10ZiG(dot)eu | Web: http://www.10ZiG.com