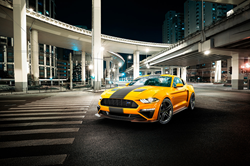 Together for over 20 years we've been designing and building high-performance ROUSH Mustangs engineered to thrill.
PLYMOUTH TOWNSHIP, Mich. (PRWEB) August 02, 2018
New 2019 model year ROUSH Stage 1 and Stage 2 Mustangs are available beginning today from ROUSH Performance. The releases continue Roush and Ford's long-standing tradition to produce vehicles with the raw power, looks and legacy that passionate drivers crave.
"Together for over 20 years we've been designing and building high-performance ROUSH Mustangs engineered to thrill," said Jack Roush Jr., advanced business strategist for ROUSH Performance.
Harnessing the power of Ford's 2.3L EcoBoost® engine combined with Roush's signature styling, the ROUSH Stage 1 Mustang fuses both form and function. The turbocharged 4-cylinder engine produces 310 horsepower and 350 lb-ft of torque, all in a lightweight package specially designed for the 2.3L's increased power. A high-performance, stainless steel exhaust system increases air flow for an aggressive sound presence. ROUSH also offers additional aftermarket performance parts for the enthusiasts that want to get even more out of their Mustang.
The Stage 1 Mustang's classic, racing-inspired design captures the Mustang's timeless American appeal, while incorporating the latest in cutting-edge engineering. The ROUSH R8 aero package is designed with maximum airflow and downforce in mind. An enhanced high-flow upper grille features the signature "1" badge, while the widened lower grille encourages increased powertrain cooling.
The Stage 1 Mustang graphics package comes standard in a variety of color choices, with alternative graphics available for drivers craving a customized design touch. The vehicle's staggered 19-inch GT Performance wheels, wrapped in high-performance tires, enable the independent suspension to achieve maximum grip. Additional 1-way adjustable coilover suspension and ROUSH wheel options also are available.
The 460-horsepower ROUSH Stage 2 Mustang offers a variety of additional style and performance options for a truly personalized driving experience.
The Stage 2 comes equipped with Ford's powerful 5.0L V8 engine and ROUSH's signature styling and suspension for race-inspired performance and design. Custom ROUSH-designed wheels wrapped in ultra-high-performance Continental ExtremeContact™ Sport tires provide unparalleled grip and cornering, boasting 1.07 lateral g's on the skid pad.
State-of-the-art suspension upgrades include adjustable height coilovers and ROUSH-tuned valving for ideal comfort and handling capability. An optional adjustable three-way suspension offers jounce and rebound adjustment for serious handling enthusiasts.
The Stage 2 graphics package is available in a variety of color options, with the ability to add additional graphics, including a Top Performance stripe and coordinated accent striping. A variety of quad-tip exhaust packages complete the Stage 2's rear design.
Each vehicle carries a three-year, 36,000-mile limited warranty. Contact a local authorized ROUSH Performance dealership or visit ROUSHperformance.com for more information.
About ROUSH Performance: ROUSH Performance was founded in 1995 by motorsports legend Jack Roush, the winningest name in racing. Combining performance engineering with entrepreneurship, Roush began selling designs he had created for his own team to the wider world of motorsports. Based out of Plymouth Township, Michigan, ROUSH Performance, a division of Roush Enterprises, designs, engineers and manufactures completely assembled pre-titled vehicles, aftermarket performance parts, and superchargers for the global performance enthusiast market. Please visit http://www.ROUSHperformance.com or call 800.59.ROUSH.