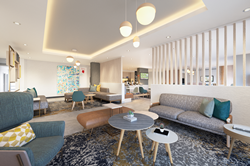 TAMPA, Fla. (PRWEB) January 29, 2021
The TownePlace Suites by Marriott Tampa East/I-4 opened for business on January 27th. The new 96-suite hotel is built for travelers looking for a simple and friendly place where they can settle-in, keep their routine, and easily connect to the Downtown Tampa area. Located at 6202 East Dr. Martin Luther King Jr. Blvd, it will operate as a Marriott franchise, owned by RAM Tampa LLC of Tampa, FL and managed by Naples Hotel Group or Naples, FL.
"We are excited to open the TownePlace Suites Tampa East/I-4 and welcome it to our portfolio," said Phil Tandett, Executive Vice President of Operations for Naples Hotel Group. "Our team went above and beyond to open this hotel in a short amount of time for Super Bowl LV events in the upcoming week."
All service team members are thoroughly trained on local knowledge and look forward to connecting guests to the local area. The hotel brand's signature floor-to-ceiling TowneMap® also helps guests instantly acclimate to the area by featuring great places to eat, play, and live. The TownePlace Suites Tampa East/I-4 is located just minutes from Downtown Tampa and 25 minutes from Tampa International Airport. The new hotel offers guests convenient access to Ybor City, Raymond James Stadium, and the Florida State Fairgrounds. This is the first of Marriott's new TownePlace Suites Gen 5 prototype to open in the U.S. and the 450th TownePlace franchise location.
Ideal for travelers who need accommodations for more extended stays, this new property offers studio and one-bedroom suites with fully equipped kitchens, as well as separate living/working and sleeping areas. Guests can work and relax on their terms in modern suites that feature full kitchens with stainless steel appliances and granite countertops, adjustable workspaces with built-in shelves and lighting, a large flat-screen television, as well as luxurious new bedding. Most rooms also feature the Home Office™ Suite, designed to provide guests with plenty of storage and flexible space to spread out and make it their own.
The TownePlace Suites Tampa East/I-4 allows guests to maintain a healthy lifestyle with an array of food options. While on the property, guests are served complimentary breakfast every morning in the lobby area and can fire up their stay by grilling up dinner on the outdoor Weber grills. The 24-hour In a Pinch® market and On Us® coffee service offer guests the chance to get their snack and caffeine on whenever they feel the need.
TownePlace Suites helps its guests stay organized on the road with its partner, The Container Store. While staying at the hotel, travelers can unpack their suitcase in a custom elfa® closet. From drawers to shelves to smart hanging space, you'll find everything you need to make you feel right at home. Other hotel amenities include an outdoor swimming pool, a fitness center open 24 hours per day, a meeting room, laundry facilities, complimentary Wi-Fi throughout the hotel, and on-site business services, including copying, faxing, and printing. As a brand, TownePlace Suites recognizes that families may include more than just humans, which is why the TownePlace Suites Tampa East/I-4 is pet-friendly (fees may apply).
About Naples Hotel Group
Naples Hotel Group is a hotel development and management company based in Florida and prides itself on building long-term relationships with quality people and organizations. The Naples, FL hotel group specializes in Hotel Management and Development of upscale limited and select-service hotels. Naples Hotel Group has achieved superior results and has a proven ability to enhance hotels' performance by using their experience, responsiveness, and extensive resources. For more information about Naples Hotel Group, visit http://www.napleshotelgroup.com, and connect on LinkedIn, Twitter, and Instagram.