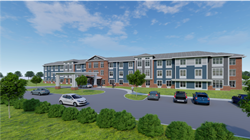 We are thrilled to offer affordable assisted living options to seniors who never thought assisted living was financially achievable, and to do it right here in our own hometown.
FORT WAYNE, Ind. (PRWEB) July 28, 2020
A VIP Preview Party and Ribbon-Cutting Ceremony will be held for Evergreen Village at Fort Wayne, a new affordable assisted lifestyle community for older adults that is opening in July.
The invitation-only event will be held this month at the community, which is located at 12523 Auburn Road in Fort Wayne, Indiana. The community is conveniently located by the hospital and provides easy access to amenities in the area and connects to the bike trail and Northeast Indiana United Trails.
This multimillion-dollar development is designed for seniors of all incomes who need some help to maintain their independence.
"We will be providing older adults with a wonderful alternative to a nursing home or to struggling alone at home," said Evergreen Village Administrator Amanda Palace.
As an affordable assisted living facility, Evergreen Village will make assisted living a realistic option for seniors who have been unable to afford this type of community in the past. The community will combine residential apartment-home living with the availability of personal assistance, medication administration and a variety of convenience and support services, such as meals, housekeeping, laundry and transportation.
Residents will live in private apartments that they will furnish and decorate to their tastes. Each of the apartments will feature a kitchenette, spacious bathroom with shower and grab bars, individually controlled heating and air conditioning and emergency alert system.
In addition, Evergreen Village offers several areas for residents to enjoy, including a bistro, private dining room, lounges, fitness center, recreation room/theater, library/computer room and other amenities.
Certified nursing assistants, working under the direction of a licensed nurse, will be on-duty 24 hours a day, seven days a week.
"Residents also will benefit from all of the opportunities that will be available to socialize with friends and neighbors and to participate in activities and special programs," says Palace.
When fully occupied, the community will provide 51 full and part-time jobs. Annual payroll with benefits is projected to be nearly $2 million.
Evergreen Village at Fort Wayne will be certified to operate through the Division of Aging and regulated by the Indiana State Department of Health.
Evergreen Partners is excited to bring one of its high-quality, residential-style affordable assisted living communities to Fort Wayne and the surrounding areas.
The Architectural Team, Inc. designed the community, and construction was completed by T&W Corporation.
Another Evergreen Village property is located in Bloomington, Ind.
"Our focus," says Rod Burkett, CEO of Gardant Management Solutions, the company that manages the community "is to provide Evergreen Village residents with the love, compassion and dignity they deserve and the help and assistance they need. Our emphasis is on helping each resident achieve and maintain as much independence as possible for as long as possible."
For more information about Evergreen Village at Fort Wayne, call 260-637-2830 or visit the community website.