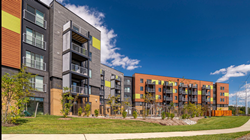 We are proud to help meet this crucial need in our local area and give families a beautiful community where they can thrive — without the financial burden of a market-rate home.
ARLINGTON, Va. (PRWEB) February 09, 2021
AHC Inc., a leading developer of affordable housing in the Washington-Baltimore metro region, is pleased to introduce a new apartment community in Arlington, VA, called The Apex. Featuring a total of 256 apartments, the $100 million development has started to welcome its first residents and is currently accepting applications.
The Apex complex features a playground, sport court, community center, underground parking, and fitness room. The community's one-, two- and three-bedroom apartments are available for families earning 40% to 80% of the Area Median Income (AMI).
"Low- to moderate- income families are facing a tough market for affordable homes in Arlington," said John Welsh, Vice President of Multifamily Development. "We are proud to help meet this crucial need in our local area and give families a beautiful community where they can thrive — without the financial burden of a market-rate home."
The Apex was designed to earn an EarthCraft Gold certification. To reduce environmental impact, the building offers energy-efficient appliances and features a green roof. Additionally, residents can also enjoy quick access to the biking and pedestrian trail that follows along Four Mile Run located next to The Apex.
The community is managed by AHC Management, a subsidiary of AHC Inc. and the largest provider of management services for affordable-housing communities in Arlington County. The Apex residents will also benefit from a variety of social and educational programs provided by AHC's award-winning Resident Services.
"From AHC Inc.'s thoughtful development of the community to AHC Management and Resident Services' hard work to maintain a high quality of living for residents, The Apex is a model of what affordable housing should look like," said Michael Werner, Senior Vice President of AHC Management. "Everyone at AHC is devoted to creating comfortable homes that provide residents with the best environment for enjoyable living."
The project's financing includes up to $20.9 million in revolving loan funds from Arlington County's Affordable Housing Investment Fund (AHIF). The redevelopment also won $2.5 million in 9% Low-Income Housing Tax Credits (LIHTC) and approximately $1 million in 4% LIHTC tax credits.
The apartment community was designed by Michael T. Foster Architects and constructed by Harkins Builders. Other project partners include Arlington County; Capital One; Hudson Housing; Klein Hornig, LLP; NeighborWorks America; Walter L. Phillips, Shulman, Rogers, Gandal, Pordy & Ecker, P.A.; Virginia Housing Development Authority; and Walsh, Colucci, Lubeley & Walsh, P.C.
Interested applicants can learn more by visiting https://www.apexeast-west.com/ and can take a virtual tour here.
About AHC Inc.
Founded in 1975, AHC Inc. is a nonprofit developer of affordable housing that provides quality homes and education programs for low- and moderate-income families. Based in Arlington, VA, AHC has developed more than 7,500 apartment units in 50+ properties in Virginia, Maryland and Washington, D.C. AHC's Resident Services program reaches 3,000 children, teens, adults and seniors each year through on-site education and social service programs and activities. For more information, visit https://www.ahcinc.org/.
About AHC Management
AHC Management is a premier full-service property management company serving affordable-living communities in Virginia and Maryland. A subsidiary of nonprofit affordable housing developer AHC Inc., AHC Management has been servicing thousands of families for over 20 years in more than 4,500 apartment homes across 33 properties. AHC Management is certified by Virginia Housing Development Authority and is a licensed Community Association Management Company in the Commonwealth of Virginia. For more information, visit: http://www.ahcmgmt.com.