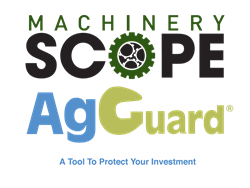 "There are so many tractors and combines in the market over 10-years old that are still in excellent shape."
ALEXANDRIA, Minn. (PRWEB) February 02, 2021
Ag Guard was already a leader in the industry by covering agricultural equipment out to 10-years old and up to 5,000 total engine hours. By expanding those solutions to include tractors and combines up to15-years old, they have significantly increased the number of machines eligible for coverage, helping farmers and equipment dealers find greater opportunity in this popular market segment.
Co-owner of Ag Guard, Dexter Schaible, had this to say about the program:
"There are so many tractors and combines in the market over 10-years old that are still in excellent shape. Ag Guard and Machinery Scope want farmers and equipment dealers to take advantage of adding extended service coverage to these units. This will give the buyer added peace of mind having powertrain coverage. This will also help the dealers sell these quality units that might be a couple of years older than past coverage allowed. Our programs are here to help the dealer sell more equipment and for the buyers to protect their investments. Ag Guard will continue to pay claims quickly and fairly, and there will always be someone knowledgeable to assist along the way."
Co-owner of Machinery Scope, Darrin Myhre, had this to say about the program:
"Ag Guard's announcement to offer industry-leading powertrain coverage on combines & tractors out to 15-years old is exciting. With Ag Guard's experience and ties to the industry, they have always been flexible about providing coverage solutions on units just outside of their stated coverage options, but this allows dealers to offer even more units to their customers with peace of mind against major powertrain failures."
By extending powertrain coverage on tractors and combines out to 15 years, we are able to cover machines that are highly coveted because of the price point and fewer emissions components.
Machinery Scope account manager, former JD service technician, and farmer, Dominic Hlinsky, had this to say about the program:
"We are excited to help add peace of mind for farmers looking at pre-def combine and tractors. One major powertrain failure with these machines can cost 1/2 to 2/3 of what they currently retail for. With a small investment, a farmer can substantially reduce the risk of major equipment repairs costs."
About Machinery Scope
Machinery Scope was founded in 2013 with the goal of improving the way people bought, sold, and managed their farm equipment through appraisals, inspections, and extended service plans. In 2018, Machinery Scope introduced Finance Scope, providing innovative finance and lease solutions for the agriculture and construction equipment industry.
To learn more about Machinery Scope and Finance Scope, please visit http://www.machineryscope.com or http://www.financescope.com.
About Ag Guard
Founded in 2001, Ag Guard provides risk management solutions in North America with extended service contracts for agriculture and light construction equipment. Their products, designed for equipment users by equipment experts, are sold through manufacturers and equipment dealers. Ag Guard has a 20-year reputation for innovative products and fair and fast claims service.
To learn more about Ag Guard, please visit http://www.agguard.com.