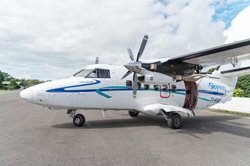 "I lead our team with a safety culture I learned in the us Military as an aviation officer, ensuring all operational and maintenance facets are audited and monitored to achieve the highest level of service and safety."
SAN JOSE, Costa Rica (PRWEB) October 17, 2018
SKYWAY CR
PR CONTACT: Nancy Harrison
TEL: 307.421.4473
EMAIL: nharrison@adventuremedianews.com
CORPORATE CONTACT: Maria Lourdes Meneses
TEL: 888.524.9396
EMAIL: lmeneses@skywaycr.com
WEB: http://www.skywaycr.com
NEW AIRLINE OPENS IN COSTA RICA
Visitors fly in comfort, convenience and safety!
SKYWAY Costa Rica is pleased to announce that they are open for business and ready to serve the travel needs of visitors and locals alike. Costa Rica has much to offer and the tourism industry is growing very rapidly bringing more and more people to this beautiful and diverse country. In order to experience all there is to do, flying from San Jose to various destinations is the best and fastest way to travel.
With and emphasis on safety and customer service, SKYWAY CR is more than a transportation company, they are part of the experience of going to Costa Rica. Instead of spending hours on bumpy roads, flying makes the most of a vacation – more time having fun and less time on the road. Connecting San Jose with Puerto Jiminez and Drake in Southern Costa Rica takes only 40 minutes by plane instead of 7 hours by car. Other destinations served include Arenal to Liberia and Manuel Antonio in 20 minutes; San Jose with Quepos, Arenal and Liberia/Tamarindo. Skyway also offers flights from San Jose to Bocas del Toro, Panama – a Caribbean Paradise only 45 minutes flight from San Jose. Booking information is available on their website.
SKYWAY was born from a vision to exceed customer expectations for flights within Costa Rica and to Panama. They operate dual engine LETs L410 UVP E20 aircraft which are proven to be reliable in a wide range of climate conditions. Built for safety and customer comfort, these planes are the workhorses in many countries such as Africa and the Middle East. The SKYWAY Flight Team is highly qualified, competent, personal and enthusiastic with many years of experience. Managing Director Kenneth Roqhuett says, "I lead our team with a safety culture I learned in the us Military as an aviation officer, ensuring all operational and maintenance facets are audited and monitored to achieve the highest level of service and safety."
SKYWAY CR provides a complete array of transportation options – from scheduled flights, charter flights, ground transportation, car rental – to helicopter flights. Their Concierge Service stands ready to book hotels, restaurants, tours, spas and every element that makes vacations pure pleasure and relaxation. Fully inclusive vacation packages are also available through the helpful staff at SKYWAY CR.
Costa Rica invites you to visit and while you are there – Fly the Sky Way!
# # #