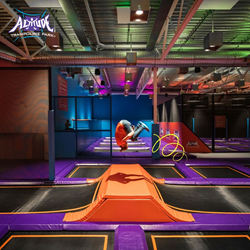 It's an absolute flagship park with the latest in trampoline attractions including interactive trampoline gaming systems
KISSIMMEE, Fla. (PRWEB) December 14, 2020
The new Altitude Trampoline Park serving the greater Kissimmee/Orlando area has announced a Grand Opening event on Saturday, January 16, 2021.
The event will feature a ribbon-cutting ceremony, live entertainment, prizes and giveaways, games, and more. Guests also will be among the first to see Kissimmee's newest trampoline park.
"It's an absolute flagship park with the latest in trampoline attractions including interactive trampoline gaming systems," said Altitude Kissimmee Partner Brantley Smith.
With more than 35,000 square feet of fun, Altitude Kissimmee offers active entertainment and socially-distanced activities for toddlers, kids, teens, and adults of all ages.
A dodgeball court, basketball hoops, and wipeout attraction (all positioned over trampolines) are just a few of the available attractions at Altitude Kissimmee. The park also features a high-flying zip line and ropes course for adventure-seekers of all ages.
Perhaps the most thrilling components, however, are the ninja course and the state-of-the-art augmented reality trampoline games.
"We've spent a long time making sure we pack as much fun and challenge into our ninja course," added Grady Hinchman, managing partner at Altitude Kissimmee. "Between that, the Valo Jump augmented reality games, and the reaction wall, there are tons of ways to stay active while letting your kids enjoy themselves safely."
With its direct proximity to Disney and other Orlando attractions, Altitude Kissimmee is a perfect stop for both local families and visitors. The park emphasizes guest safety and has implemented an intense cleanliness certification program – the C3 Certification program – that is executed by highly trained staff members.
"We have extensive cleaning protocols before, during, and after hours, and we take everyone's health and safety very seriously," said Smith. "We want Altitude Kissimmee to be a place where parents can bring their kids to let out all their energy in a safe and clean environment."
Local organizations and residents also will find that Altitude Kissimmee offers birthday packages and spaces for church gatherings, family get-togethers, and school group outings. Rain or shine, Altitude Kissimmee offers healthy, athletic fun for kids and adults.
"Families can spend hours here just exploring all the different trampolines, games, and other attractions," said Hinchman. "No matter what age or ability, we know our guests are going to have a blast here."
About the park: Altitude Kissimmee is the newest indoor adventure attraction in the greater Orlando area. Featuring 35,000 feet of trampolines, zip lines, and other challenges, it offers safe, active fun for kids and adults of all ages. To learn more about the park, visit https://www.altitudetrampolinepark.com/locations/kissimmee.