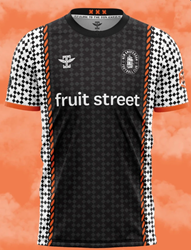 "I have been able to continue my professional soccer career with New Amsterdam while also learning valuable business skills at Fruit Street. I feel like I am contributing to society both on the pitch and through my work in public health at Fruit Street," said Michael Nastu an NAFC player.
NEW YORK (PRWEB) April 15, 2021
New Amsterdam FC, a professional soccer team playing in the National Independent Soccer Association, has announced that Fruit Street Health will be its primary shirt sponsor for the Spring 2021 National Independent Soccer Association season. Fruit Street is a CDC-recognized telehealth provider of the National Diabetes Prevention Program which helps the individuals lose weight through virtual dietitian consultations. Fruit Street will also take a partial ownership stake in the club.
As part of the partnership, Fruit Street's registered dietitians will be providing telehealth consultations to families and youth soccer players in its development academy to educate young athletes and their parents about the importance of diet and exercise for maintaining health. This is part of Fruit Street's larger effort of addressing childhood and adolescent obesity in the local New York community. Youth soccer players in New Amsterdam's academy will also have the ability to invite friends outside of their soccer team to participate in Fruit Street's childhood and adolescent weight management counseling. New Amsterdam FC first team players will also have access to Fruit Street's dietitians via the Fruit Street mobile application to help enhance their performance on the pitch.
New Amsterdam FC professional players come from a variety of backgrounds. Some are first generation immigrants looking to make their way in the United States. Others are graduates of top universities from around the world who are simultaneously pursuing their graduate education in the New York area while pursuing their passion for soccer. In partnership with Fruit Street, New Amsterdam has launched a player development program that gives players the opportunity to continue their education through tuition assistance from New Amsterdam and opportunities for careers at Fruit Street after they finish playing soccer. This sets up New Amsterdam's athletes for careers after athletics that provide a meaningful contribution to society.
Many of New Amsterdam's players grew up or immigrated to the New York community and are now learning business skills outside of the soccer world to help them contribute to society off the pitch.
Laurence Girard, a founder of both Fruit Street and New Amsterdam, shared, "Many of our athletes are extremely intelligent individuals who would like to take their passion for athletics to have a positive impact in public health. When I was younger, I always played soccer, which started my interest in diet and exercise. This interest in diet and exercise ultimately led me to a successful career in public health and diabetes prevention. Many of New Amsterdam's players are well suited to follow up in my footsteps after their playing careers to transition to careers in public health as either business professionals or even as health coaches to help address chronic diseases. Athletes have tremendous experience with diet and exercise and are well suited to help others improve their health and prevent chronic diseases. Athletes in many ways are a role model for our youth, encouraging them to live a healthy lifestyle. We've also seen other players pursue their MBA degrees while simultaneously playing soccer and working part time for Fruit Street."
Many other digital health companies have had successful sponsorships with professional sports teams. Fitbit sponsors the Minnesota Timberwolves in the NBA, Horizon BCBS of New Jersey sponsors the New York Red Bulls, New York New York-Presbyterian Hospital sponsors New York City Football Club, and Talk Space, a leading mental health telehealth provider, has a partnership with Michael Phelps, an olympic swimmer.
Working with NISA has also provided Fruit Street with business opportunities as a telemedicine company. For example, last season Fruit Street offered a CovidMD telemedicine service that tested all of the players in the league for COVID. Fruit Street is proud to say that it was able to help NISA be the only professional sports league in the country to have zero COVID-19 incidents or positive tests last season.
Many of the physicians that invested in Fruit Street were also passionate soccer fans and even decided to invest in New Amsterdam as a way to give back to the local New York community.
New Amsterdam is one of only a handful of men's professional sports teams in the New York City area alongside the New York Red Bulls, New York City Football Club, New York Cosmos, NY Giants, New York Jets, NY Rangers, NY Islanders, NY Knicks, Brooklyn Nets, NY Yankees, and NY Mets. Fruit Street is one of many digital health companies pursuing sports sponsorships as a way to enhance their brand.
Fruit Street is a public benefit corporation which is a type of for-profit company that is not only focused on profit, but on having a positive effect on society and a social impact. "Sponsoring New Amsterdam was a fraction of a percent of our annual budget. As a public benefit corporation, Fruit Street is simultaneously focused on being a profitable company and having a social impact in our local New York community. We could not be more pleased to give back to the New York community who has supported Fruit Street's growth to date. This sponsorship will also help Fruit Street as a nationally recognized brand and digital health company as we go to the consumer market with our diabetes prevention program."
New Amsterdam FC kicks off their Spring season at 8PM EST on Friday April 16th against Chattanooga FC in the Legends Cup. Fans can watch on beIN Sports for coverage.
About Fruit Street Health
Fruit Street is a national telehealth provider of the CDC's National Diabetes Prevention Program which is an evidenced-based lifestyle modification program that is designed to help individuals with prediabetes lose weight and reduce their risk for Type 2 diabetes through virtual consultations with registered dietitians. Fruit Street is also building a larger suite of telemedicine services in areas such as virtual primary care, mental health, and other chronic diseases. The company is headquartered in Manhattan and is funded by more than 500+ physicians focused on having a social impact in healthcare.
Contact
Lindsey Sacks
lindsey.sacks@fruitstreetclinic.com
http://www.fruitstreet.com
About New Amsterdam Football Club
New Amsterdam Football Club is a new professional soccer club that plays in the National Independent Soccer Association which is a professional division III league sanctioned by the United States Soccer Federation. New Amsterdam is the only professional soccer team that trains in Manhattan. Often referred to as "The Club of the People," New Amsterdam is a public benefit corporation focused on growing the sport of soccer and having a positive impact in its community by promoting sport as a way to improve health and build community.
Contact
Michael Hitchcock
michael.hitchcock@newamsterdamfc.com
http://www.newamsterdamfc.com