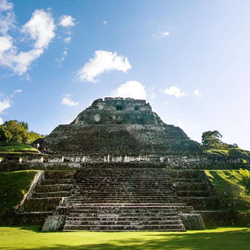 We encourage 'learning adventures' that make discovering cultures fun
SAN IGNACIO, Belize (PRWEB) June 17, 2020
A recent discovery in Belize has shed new light on the development of one of the world's most important food crops, rekindling interest in Belize's cultural tourism as The Lodge at Chaa Creek looks forward to reopening.
Brion Young, manager of Chaa Creek's onsite Belize Natural History Centre, has been fielding questions about the breakthrough discovery that identifies when corn, or maize, became part of the human diet.
"These new discoveries seem to have reminded people about the richness of Belize's Maya heritage and the number of ancient Maya temples, cities, ceremonial caves and other artefacts Belize is filled with," Mr Young said.
"With all this renewed global interest, it's frustrating to not be able to accommodate visitors right now, or to say exactly when travel will reopen.
"But people can rest assured we're working diligently to be ready to open our doors as soon as we get the green light," he added.
The recent discoveries Mr Young referred to were the result of field research at Saki Tzul, two ancient rock shelters in the Maya Mountains of Belize.
Having been continuously inhabited for some 10,000 years, Saki Tzul offers an unprecedented opportunity to study the timeline of human development in the area – including the evolution of dietary habits, according to Mark Robinson, a University of Exeter researcher and co-director of research at the site.
"This is the only example of a burial site in the Neotropics used repeatedly for 10,000 years, giving us an unparalleled opportunity to study dietary change over a long time period, including the introduction of maize into the region.
"This is the first direct evidence to show when the change in people's diets occurred and the rate at which maize increased in economic and dietary importance until it became fundamental to peoples dietary, economic, and religious lives," Dr Robinson said.
Using state of the art technology, researchers were able to identify carbon and other "markers" that different plants, meats, and other material left behind in skeletons buried in the shelters. Tracing these markers allowed researchers to ascertain that maize became a part of the ancient diet some 4,700 years ago.
Prior to that time, local inhabitants were hunter-gatherers, living off whatever they could forage from the surrounding jungle environment.
Agriculture allowed for leisure time that led to the development of a written language, cities, irrigation, causeways and other infrastructure, as well as the scientific and philosophical advances that made the Maya one of the ancient world's most advanced civilisations.
"The rise and fall of the vast Maya empire is one of history's most fascinating stories, and is really the first step in the evolution of modern day Belize," Mr Young said.
"Fortunately, the Maya were master architects and stone masons who left behind many temples, buildings and cities for us to appreciate today. Along with stelae; monuments that serve as records carved in stone, we have insights into this fascinating civilisation.
"Every year we learn something new about the ancient Maya," he said.
The Lodge at Chaa Creek has pioneered cultural tourism in Belize since the 1980s, and offers tours, expeditions and all-inclusive Belize vacation packages focused on introducing visitors to Belize's fascinating Maya heritage, Mr Young explained.
"We encourage 'learning adventures' that make discovering cultures and nature fun and exciting. Whether it's birding, nature walks, cultural tours, canoeing the Macal River or horseback riding with naturalist guides through our 400-acre private nature reserve, or visiting local villages, we want people leave Chaa Creek richer for the experience," Mr Young said.
An added bonus, Mr Young explained, is the inherently healthy nature of Belize tourism and Chaa Creek vacations.
"With so many nature-based activities, fresh air and the way our accommodations and amenities are laid out, there's a lot of space and physical distancing already built into a Chaa Creek vacation.
"And with a renewed emphasis on our already stringent hygiene and safety protocols, we continue to exceed global best practices to keep Belize Coronavirus free."
Mr Young said Belize earned worldwide recognition for early measures to stop the Coronavirus at it borders, and acclaim for containing its spread when the first of only 20 COVID cases appeared nationwide.
"We continually update information and our measures to ensure the safety of our guests and staff on the Chaa creek website. It's something we want people to know about so they feel comfortable when planning their next Belize vacation.
"We're also excited to once again introduce visitors to Belize's many natural and cultural wonders.
"Even though the ancient Maya temples and city ruins have been here for thousands of years, we still can't wait to get back to bringing visitors to see them," Mr Young said.
The Lodge at Chaa Creek is a multi-award winning eco resort set within a 400-acre private nature reserve along the banks of the Macal River in Belize. It was recognised by National Geographic with first place honours at the 2017 World Legacy Awards held in Berlin.