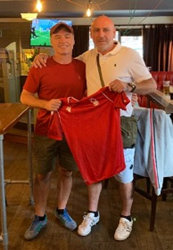 Paul Lowe offers some insight into the significance of this magnanimous donation from his beloved Nottingham Forest: "I know first-hand the immense positive knock-on effect this will have to these young people in Ghana, when they wear the famous Garibaldi Red of Forest; it becomes so much more than
MANCHESTER, United Kingdom (PRWEB) November 02, 2020
A group of global heart-centred influencers have co-authored the anthology Mastering the Game of Life to officially mark the launch of the charitable organisation World Game-Changers, inspired by life coach, author, and podcaster Paul D. Lowe. The anthology was published by Into Print on November 1st, 2020 and is available on Amazon.co.uk and Amazon.com. The spirit of community behind the book has helped inspire an initiative with Nottingham Forest Football Club to provide football kits to youth in Ghana.
The book will raise funds and bring attention to World Game-Changers' initiative, undertaken with Growing Trees Network, to plant a food forest in Jilo, Ghana. Growing Trees Network founder Lars Heiselberg Vang Jensen writes in the book, "The planting of 'food forests'…can help provide food for the financially poor community, as well as vital commodities to be traded for other crucial sustenance necessities like water, meat, and vegetables. By establishing this new 1,000+ trees food forest in Jilo, Ghana, we are helping the locals, from heart-to-heart."
The contribution to Ghana doesn't stop there though. Whilst four of the co-authors from the book – Gary Clarke, Paul Kelly, Steve Corry, and Paul Lowe – each offer their own respective reference to Nottingham Forest Football Club, based in Nottingham, England, there is a far more collective consideration that brings all the co-authors together.
Due to the generosity of Nottingham Forest Football Club, the young people of Jilo will benefit from wearing Forest kits donated by the twice former European Cup Winners – contributing even further to the uplifting and well-being of the local community.
Paul Lowe offers some insight into the significance of this magnanimous donation from his beloved Nottingham Forest:
"I know first-hand the immense positive knock-on effect this will have to these young people in Ghana, when they wear the famous Garibaldi Red of Forest; it becomes so much more than just a football kit. For the youngsters, it emerges as a symbol of love and hope – knowing that 'strangers' thousands of miles away, have compassionately taken them into their hearts."
Nottingham Forest Football Club director Jonny Owen (top, left) symbolically hands over a Forest shirt to World Game-Changers director Gary Clarke, before the assortment of Forest kit is shipped to Jilo, Ghana…
The initiative with Nottingham Forest marks one of the initiatives detailed in Lowe's piece in the book, The Tale of Three Forests. The book celebrates three forests: the food forest in Jilo, Nottingham Forest Football Club, and miracle baby Forest Conlin, child of anthology co-author Robert Conlin, whose miracle family has been celebrated in international media.
Co-author Aimee Mosco writes in the book, "World Game-Changers as an organization, like trees, advocates for life. We operate on the belief that all life is of great value…Because energy and effort are amplified exponentially when two or more gather, we are asking you to hold hands with us as we seize the opportunity to take action as powerful change-makers. Be part of our story, 'planting the seeds of change,' and cheer with us as we watch our three little forests grow."
For more information about the book, go to https://worldgamechangers.org/book-mastering-the-game-of-life/.
There is a special Amazon Kindle promotion of the ebook for 99 pence and .99 from November 1-3. ###