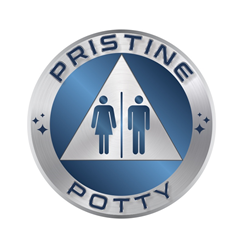 As a patron, I found that there was no viable solution for communicating directly to the restaurant owner on the importance of having sanitary restrooms in the same place where customers eat their food
LOS ANGELES (PRWEB) June 15, 2021
Pristine Potty was created as a mobile application to help consumers rate the restrooms of their favorite dining spots. With the goal of creating better service for dining experiences, Pristine Potty's mission is to elevate restaurants service and raise dining standards globally. In an age of pandemic unrest and hygiene consciousness, the Pristine Potty app is dedicated to being the authority on pristine standards for an enjoyable experience.
According to a survey by Zogby International, more than 80 percent of consumers would avoid a restaurant with a dirty restroom — not just avoid the restroom but avoid the restaurant altogether. There is a clear psychological connection for many between the level of cleanliness of the restroom and how clean the establishment keeps their kitchen where food is being prepared. Aiding establishments and consumers, the Pristine Potty app locates the restaurant where the patron is dining and allows the customer to provide immediate feedback. This response to the owner will help create more accountability for clean restrooms in all restaurants. Patrons must be physically present at the establishment to leave a rating.
The initial idea came from the CEO, Michael Gamble, who as a #girldad experienced challenges while changing diapers for three daughters when dining out. He began taking note of how unsanitary some of these restrooms were.
"As a patron, I found that there was no viable solution for communicating directly to the restaurant owner on the importance of having sanitary restrooms in the same place where customers eat their food," said Gamble.
Through his vision, persistence, and investment toward creating a new standard in bathroom cleanliness, Gamble, along with COO, Othniel Tucker, developed Pristine Potty.
"We wanted to provide consumers with the option of knowing which establishments make restroom cleanliness a priority," said Gamble. "Living in a pandemic has made everyone more hygiene conscious, and restaurants owe it to the general public to support this effort."
The Pristine Potty developed a proprietary rating system based on three simple criteria:
1. Pristine Rating
a. No visible trash
b. No visible waste
c. No offensive smells
2. Needs Help
a. Some visible trash
b. Some visible waste
c. Some offensive smells
3. S.O.S.
a. Restroom is dirty
b. Not proper for paying patron
Pristine Potty is available for free download at the Apple App Store and Google Play Store.