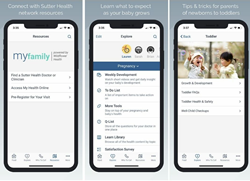 "What makes My Family by Sutter Health app unique is that it offers advice that has been reviewed and vetted by Sutter physicians. It gives our patients convenient, accessible and reliable information, when and where they want it."
SACRAMENTO, Calif. and SAN FRANCISCO (PRWEB) February 27, 2020
From the moment a woman realizes she's pregnant, there's so much to think about, from coping with morning sickness to remembering to take prenatal vitamins and preparing for delivery.
In hopes of making it easier for prospective moms to find all the information they may need, Sutter Health and Wildflower Health have teamed up to offer an app that supports women and their partners before, during and after pregnancy: My Family by Sutter Health™.
The app, which is intended for those 18 years or older, is powered by Wildflower's digital platform. It is designed to help patients connect to trusted local resources available within Sutter Health, a not-for-profit health network serving more than 3 million patients in Northern California.
It provides pregnancy guidance reviewed by Sutter network doctors as well as other helpful resources, including nutrition and exercise ideas, weekly pregnancy checklists and reminders, and a guide for discussing a woman's labor and birth preferences with her provider. It provides tips for caring for newborns, too—from breastfeeding to safe sleeping. The entire family's health can also be supported in the app. With the ability to create multiple profiles for parents and kids, users can manage their family's health at every age and stage.
"What makes My Family by Sutter Health app unique is that it offers advice that has been reviewed and vetted by Sutter physicians," said Albert Chan, M.D., M.S., FAAFP, Sutter Health chief of digital patient experience. "The information comes from sources like the American Academy of Pediatrics, and is backed by the local doctors taking care of local families. It gives our patients convenient, accessible and reliable information, when and where they want it."
The free mobile app joins Sutter's comprehensive suite of maternity, pediatric, family medicine and women's health care services, connecting families to hospital birth centers, classes, breastfeeding support, neonatal care services, emergency services and more.
"From Baby Friendly Hospitals, to well-child visits and high-quality women's healthcare, Sutter Health and Wildflower Health understand the needs of growing families in Northern California," said Leah Sparks, founder and CEO of Wildflower Health. "Our collaboration will build trusted solutions for families, personalized to their health needs."
The results from a one-year pilot study with Sutter Health and Circle, another Wildflower Health pregnancy app, indicated that patient satisfaction was a key indicator of success. Of participants from the pilot study, 100 percent rated the app "easy to very easy" to navigate with a Net Promoter Score of 28. Almost 80 percent said they were likely to recommend the app experience to others.
Additionally, a peer-reviewed journal article found that users of a Wildflower Health app engaged in prenatal care earlier and had fewer low-birth weight babies than non-app users.
With the goal of creating greater access to the right care at the right times, the My Family by Sutter Health app helps support healthier families. The My Family by Sutter Health™ app seeks to help with the early identification of health issues to ensure that every individual receives the most appropriate level of care, decision support to enable healthy choices for a variety of scenarios, and adherence and compliance with care plans, appointments, vaccinations and prevention.
The My Family by Sutter Health™ app is available in English and Spanish. It can be downloaded in both the Apple App Store and Google Play Store by following the links provided, or searching "My Family Sutter" in the app stores.
About Sutter Health
Sutter Health is more than 60,000 people strong thanks to its integrated network of clinicians, employees and volunteers. Headquartered in Sacramento, Calif., Sutter Health provides access to high quality, affordable care for more than 3 million Northern Californians through its network of hospitals, medical foundations, urgent and walk-in care centers, home health and hospice services. Nearly 14,000 physicians and advanced practice clinicians care for Sutter patients.
For more information about the Sutter Health network visit: sutterhealth.org | facebook.com/sutterhealth | youtube.com/sutterhealth | twitter.com/sutterhealth.
About Wildflower Health
Wildflower empowers women and their families to confidently navigate and access the care they need, when they need it. By deeply integrating our technology into healthcare and personalizing the user experience, we help the entire healthcare ecosystem meet the expectations of today's consumer, driving a meaningful impact on health for entire families. Learn more at http://www.wildflowerhealth.com.