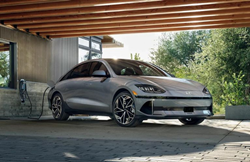 QUINCY, Mass. (PRWEB) May 24, 2023
Quirk Hyundai is excited to announce the arrival of the 2023 Hyundai IONIQ 6, the latest addition to Hyundai's innovative lineup of electric vehicles. With its revolutionary design, advanced technology and impressive performance, the IONIQ 6 is set to redefine the electric vehicle segment.
Designed with the future in mind, the 2023 Hyundai IONIQ 6 showcases a sleek and aerodynamic profile that seamlessly combines form and function. Its bold styling elements, including a distinctive front grille and sleek LED headlights, make a powerful statement on the road.
Underneath its striking exterior, the IONIQ 6 boasts a power rating of 149 hp and 258 lb.-ft. of torque from a single electric motor paired with a 53-kWh battery. With its impressive range of up to 270 miles, drivers can enjoy extended journeys without compromise. Charging the IONIQ 6 is quick and convenient, thanks to its advanced charging capabilities.
Inside the cabin, the 2023 Hyundai IONIQ 6 offers a refined and technologically advanced space. The spacious interior is meticulously crafted with premium materials, providing a comfortable and luxurious driving experience. Equipped with an array of intelligent features, including a state-of-the-art infotainment system and advanced driver-assistance technologies, the IONIQ 6 keeps drivers connected and safe on every journey.
As a trusted Hyundai dealership, Quirk Hyundai provides a hassle-free and customer-centric shopping experience. With a team of knowledgeable professionals, they are dedicated to helping customers find the perfect vehicle that suits their needs and preferences. Additionally, the dealership provides flexible financing options to help customers bring home their dream electric vehicle.
Customers are encouraged to log onto the dealership's website: https://www.quirkhyundai.com/ to learn more about this new Hyundai electric vehicle. For detailed information, they can visit the dealership at 111 McGrath Highway, Quincy, Massachusetts or contact them at 617-249-5900.