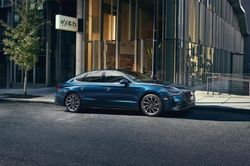 STOCKTON, Calif. (PRWEB) March 02, 2023
Stockton Hyundai, a leading vehicle dealership in California, is pleased to announce the arrival of the 2023 Hyundai Sonata SE. This latest addition to the Hyundai Sonata family is now available at the dealership for purchase and test drives in Stockton, California.
The 2023 Hyundai Sonata SE is a midsize sedan with a sleek design and impressive performance capabilities. Equipped with a 2.5-liter four-cylinder engine, the Sonata SE delivers up to 191 hp of engine power and 181 lb.-ft. of torque rating. The engine is paired with an eight-speed automatic transmission that provides smooth and efficient shifting.
In addition to its impressive engine specifications, the 2023 Hyundai Sonata SE also comes equipped with a range of advanced safety features. These include blind spot detection, lane departure warning and rear cross-traffic alert. The car also boasts a spacious and comfortable interior, with features such as a 10.25-inch touchscreen display, Apple CarPlay® and Android Auto™ compatibility and a premium sound system.
Stockton Hyundai is now offering interested customers the opportunity to test drive the 2023 Hyundai Sonata SE at their dealership in Stockton, California. The dealership's knowledgeable and friendly staff can answer any questions and assist with purchasing. Drivers can understand how the vehicle works in real time when they test drive. They can also check out the latest upgrades added to the sedan.
To schedule a test drive or learn more about the 2023 Hyundai Sonata SE, customers can visit the Stockton Hyundai dealership at the following address: Stockton Hyundai, 2979 Auto Center Cir, Stockton, CA 95212 or contact them by phone at 209-227-1081.