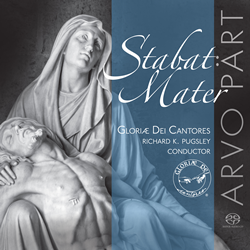 NEW ARVO PÄRT ALBUM - #5 on the BILLBOARD CLASSICAL CHARTS
ORLEANS, Mass. (PRWEB) May 21, 2020
New Arvo Pärt Album by Gloriae Dei Cantores (Singers To The Glory Of God) is #5 On The Billboard Classical Charts
Arvo Pärt's music speaks of his profound faith and is an oasis of peace and serenity in our times.
Listen Digitally Everywhere to: Stabat Mater: Choral Works by Arvo Pärt
Order Now at http://www.gdcrecordings.com or Amazon.com
"...performed with great polish — but also with a purity that feels uniquely unaffected." --Fanfare
"...the closing minutes of the Stabat Mater are heartbreaking on this new recording." --Fanfare
"Five Stars – Performance and Stereo Sonics...sumptuous and detailed DSD recording." –HRAudio.net
"Five Stars - 70 minutes of exquisite spiritual power...Superb" --Fanfare
"Richard K. Pugsley conducts with clarity, sensitivity and an instinct for high impact moments." –San Francisco Classical Voice
"The performances throughout radiate conviction and urgency, a sense of belief in every phrase..." –San Francisco Classical Voice
"A new and deeply moving expression of the Truth that sustains the Universe."–OrthoChristian.com
Arvo Pärt's music crosses all boundaries—from classical to jazz to pop and everything in between. There is something about the music of Arvo Pärt—his music affects all who listen. Whether you are searching for refreshment, find yourself in an impossible situation, or ache in a deep place beyond what words can express, let the glorious, yet calming music of Arvo Pärt bring you peace in these troubled times.
"Music is my friend, ever-understanding. Compassionate. Forgiving, it's a comforter, the handkerchief for drying my tears of sadness, the source of my tears of joy. My liberation and flight. But also, a painful thorn in my flesh and soul, that which makes me sober and teaches humility." –Arvo Pärt
Modest about his achievements yet authentically convinced about the role of his music in today's world, Arvo Pärt (b. 1935) is today's most performed "classical" composer. For the past forty years, Pärt's compositions have shown and spoken the influence of multiple layers and global influences—the music of the Orthodox Church, bells, Gregorian chant, Renaissance polyphony, a compositional technique he developed called "tintinnabuli", and . . . silence. This particular recording offers a unique cross-section of Pärt's choral works, revealing the heart, soul and mind of a true master of his language in both text and music.
Gloriæ Dei Cantores (Singers to the Glory of God), under the direction of Richard K. Pugsley, is dedicated to promoting the best of sacred choral music. Several years ago, they began an in depth study of Arvo Pärt, immersing themselves in his compositional style. They sang his music in worship, on tour and in an extensive concert series at the Church of the Transfiguration in Orleans, MA. Their repertoire includes Arvo Pärt's larger works such as Passio and Stabat Mater as well as the lesser known and performed L'abbé Agathon and Berliner Mass.
In this recording, the expressive beauty and clarity of Arvo Pärt's music shines through the joyful dance-like rhythms of Peace Upon You, Jerusalem and the glorious setting of Mary's words in the Magnificat. The masterful L'abbé Agathon sets the scene of this ancient 4th century story of the chance (or was it?) meeting of the hermit Agathon and a leper. After several testings of the hermit's patience and his generosity, the leper reveals himself to be an angel, and blesses the hermit Agathon, and goes on his way. The final work—a musical landmark in Pärt's career—is Stabat Mater, written to express the passion, agony, and love of Mary at the foot of the cross of her son.
Learn more at http://www.gdcrecordings.com or Join Our Mailing List