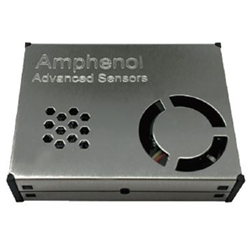 WILMINGTON, Mass. (PRWEB) September 09, 2019
Heilind Electronics, a premier global distributor of electronic components and authorized distributor for Amphenol Advanced Sensors, is now offering the Telaire brand SM-UART-04L sensor from Amphenol Advanced Sensors. Featuring a UART interface, PM2.5 output and PM10 calculated output, the sensor detects dust particle concentration in the air via optical sensing technology.
This compact product leverages laser technology for high accuracy and a quick response. A laser light emitting diode (LED) and photo sensor are optically arranged in the device, with the photo sensor detecting reflected LED light through dust particles. The pulse pattern of the signal output is used to detect small particles from household dust.
In addition to being RoHS and REACH compliant, the new sensor offers a flexible mounting style and is enclosed within a metal case for EMC protection. It is also highly durable, with an average re-calibration cycle of 40,000 hours.
Because of its superior sensing capabilities and wide detection range, the SM-UART-04L can be used in a broad variety of air quality applications. Specific uses include air quality meters and air purifiers for both residential and light industrial monitoring and control.
Visit Heilind's website for more information about Amphenol Advanced Sensors' SM-UART-04L PM2.5 particulate dust sensors.
About Heilind Electronics
Heilind Electronics, Inc. (http://www.heilind.com) is one of the world's leading distributors of connectors, relays, sensors, switches, thermal management and circuit protection products, terminal blocks, wire and cable, wiring accessories and insulation and identification products. Founded in 1974, Heilind has locations throughout the U.S., Canada, Mexico, Brazil, Germany, Singapore, Hong Kong and China. Follow Heilind on Facebook at facebook.com/Heilind and on Twitter at twitter.com/Heilind.
About Amphenol Advanced Sensors
Amphenol Advanced Sensors is a leading innovator in advanced sensing technologies and innovative embedded measurement solutions. These solutions are customized for regulatory and industry-driven applications and are designed to create value by providing critical information for real-time decisions.