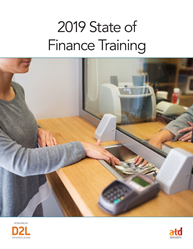 "We're doing a lot to upskill our staff and get them focused on how the transactions they do not only matter in the lives of the people they're serving, but also in support of the organization's mission, vision, and strategy." —Jen Madden, Apple Federal Credit Union
ALEXANDRIA, Va. (PRWEB) October 01, 2019
According to new research from the Association for Talent Development (ATD), about 67 percent of financial institutions believe their organization is prepared for another financial crisis. This finding is one of many in ATD's 2019 State of Finance Training.
The report also finds that the finance industry, one of the most targeted for cyberattacks, is focusing strongly on training to protect customer data. Nearly all finance organizations (97 percent) provided employees with training to protect customers from a data breach. At seven out of 10 financial institutions, talent development shares accountability with another department (such as IT) for training to protect customer data. At 17 percent of organizations, talent development has sole accountability for this area.
ATD's report The Future of Work notes that issues like cyber risk and cyber security are top of mind for many financial institutions and their talent development teams. Dedicated training on these issues is critical.
Key findings from the 2019 State of Finance Training are:

Finance organizations spent an average of $1,097 on learning per employee in 2018. This is slightly lower than the figure for organizations in all industries ($1,296 according to ATD's 2018 State of the Industry report).
The typical employee was required to attend an average of 15.3 hours of compliance training each year. This number was higher for banks (16.9 hours) and credit unions (13.8 hours) than for other financial organizations (5.7 hours).
Employees at finance organizations used an average of 31.5 learning hours per year, slightly lower than organizations in all industries (34.1 as reported in ATD's 2018 State of the Industry). Credit unions averaged more annual learning hours per employee (35.7) than banks (29.4) or other financial organizations (30.9).
"The financial crisis has forced us to think about solvency in a different way," says Jen Madden, associate vice president of talent development at Apple Federal Credit Union, who was interviewed for the report. "We're doing a lot to upskill our staff and get them focused on how the transactions they do not only matter in the lives of the people they're serving, but also in support of the organization's mission, vision, and strategy."
To learn more about the research findings and what financial institutions are doing to develop the skills of employees, access the full research report, sponsored by D2L, at http://www.td.org.
About ATD
The Association for Talent Development (ATD) is the world's largest professional membership organization supporting those who develop the knowledge and skills of employees, improve performance, and help to achieve results for the organizations they serve. Originally established in 1943, the association was previously known as the American Society for Training & Development (ASTD).
For more information, visit http://www.td.org.