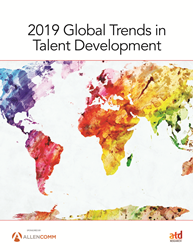 "We're more alike than we think. There are some struggles that we share worldwide. If we can work together, we can find ways to learn from each other and exchange ideas." —Nelson Santiago, ATD regional manager for the Latin America, Canada, and Africa
ALEXANDRIA, Va. (PRWEB) February 05, 2020
Developing interpersonal skills and adapting to new technologies are universal challenges faced across the globe, according to ATD's 2019 Global Trends in Talent Development research report, sponsored by AllenComm.
Based on a survey of 413 talent development professionals from four regions—Asia-Pacific; Europe, the Middle East, and Africa (EMEA); North America; and Latin America—development of interpersonal skills (such as communication and teamwork) were identified by respondents in EMEA, Latin America, and North America as the top content area for their organization. Asia-Pacific listed it as the second on the list, just below executive development.
"In the learning and development industry, we're in the business of people relationships," says Nelson Santiago, ATD regional manager for the Latin America, Canada, and Africa, and former global facilitator at ATD. "Learning will not occur if we don't take care of the relationship part first. That relationship between learner and learner, or learner and content, or learner and instructor all need to be built. Interpersonal skills are extremely important for building those relationships."
The four regions identified adapting to or keeping up with new technology as a major challenge. Organizations may also struggle with this because they lack the knowledge needed to make decisions about those technologies.
"Not many people really understand what kind of artificial intelligence or machine learning technology has been used in talent development or human resource management systems," says Koko Nakahara, CEO of Instructional Design. "We need to have specific learning courses, webinars, or other resources where talent development can learn about the technologies that are out there."
Some key findings of this report are:

Organizations in all regions struggled with aligning their talent development strategy to their business goals. About half of respondents thought their organization's talent development goals and business goals were aligned. Organizations in Latin America were least likely to have this alignment (38 percent), while organizations in EMEA were most likely to be aligned (57 percent).
Respondents in North America were significantly more likely than those in other regions to have access to and use development resources their organization paid for, such as tuition reimbursement, association memberships or conferences, certifications, or self-development materials.
On average, organizations in Latin America spent a larger share of their talent development budget (55 percent) on learning suppliers compared with other regions. However, respondents in Latin America were also most likely to report having difficulty finding qualified learning suppliers.
"We're more alike than we think," says Santiago. "There are some struggles that we share worldwide. If we can work together, we can find ways to learn from each other and exchange ideas."
About ATD
The Association for Talent Development (ATD) is the world's largest professional membership organization supporting those who develop the knowledge and skills of employees, improve performance, and help to achieve results for the organizations they serve. Originally established in 1943, the association was previously known as the American Society for Training & Development (ASTD).
ATD's members come from more than 120 countries and work in public and private organizations in every industry sector. ATD supports talent development professionals who gather locally in volunteer-led U.S. chapters and international member networks, and with international strategic partners.
For more information, visit ATD.