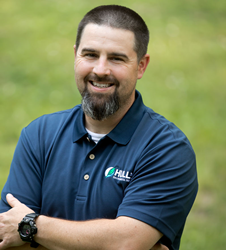 "Alex was a natural fit for us. The combination of his previous experience, confidence in his own skill sets, his leadership qualities and 'go-get it' attitude were exactly what we were looking for in this role. We expect him to really take our Atlanta service center to the next level."
ATLANTA (PRWEB) May 25, 2021
Hull's Environmental Services, Inc. (Hull's) recently appointed Alex Potteiger as the new Area Operations Manager for the Atlanta area service center. He will be responsible for operational oversight, health & safety compliance, income and expense management, personnel management and new business development.
Alex Potteiger has been in the hazardous materials and environmental industry for over 17 years. He began his career like many environmental professionals, serving his time in the field as a technician, slowly taking on more responsibility, larger projects, longer hours and eventually rising through the ranks into upper management. His perseverance, experience and tenacity helped him elevate to Environmental Project Manager prior to joining Hull's.
Alex has extensive experience in remediation, waste management, large scale excavations, demolition, industrial cleaning and confined space entry and rescue. He has worked on numerous major environmental projects all over the United States, including both natural and man-made disasters. He has past experience working with one of the top train derailment response companies and helped lead their environmental team.
Because of his work ethic and commitment to excellence, he has forged many relationships in the environmental industry. He can effectively manage small jobs up to multi-million-dollar, complex projects. He has been recognized by past employers and customers for outstanding management and successful completion of his projects.
Tony Payne, Executive Vice President, explained, "Alex was a natural fit for us. The combination of his previous experience, confidence in his own skill sets, his leadership qualities and 'go-get it' attitude were exactly what we were looking for in this role. We expect him to really take our Atlanta service center to the next level."
About Hull's Environmental Services:
Hull's Environmental Services, Inc. is a certified SBA, woman-owned small business operating from locations in Florida, Georgia, Oklahoma, Tennessee, and Texas. Throughout the southeast and southcentral United States, Hull's performs a variety of environmental services including emergency spill response for oil, fuel and hazardous materials, contaminated site remediation, hazardous & non-hazardous waste transportation & disposal, industrial cleaning & maintenance, vacuum truck services, tank cleaning and a wide variety of other related services for both the public and private sector.