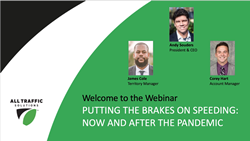 These cities have consistently maintained safe speeds on their roads deploying radar speed signs that gather traffic data at a time when many U.S. cities report sharp increases in speeding, crashes and fatalities on near-empty roads due to mandatory shelter in place orders. – Andy Souders, ATS CEO
HERNDON, Va. (PRWEB) May 19, 2020
Traffic safety and cloud technology leader All Traffic Solutions (ATS) will present Putting the Brakes on Speeding: Now and After the Pandemic, a free live webinar on Wednesday, May 20, 2020 at 2pm ET/11am PT. The webinar looks at the current trend of high-risk speeding on our nation's roads in the midst of the coronavirus pandemic and offers proven strategies for traffic calming. Attendees will be the first to learn the results of an ATS study into the effectiveness of using radar speed signs together with real-time traffic data and analytics as a deterrent to speeding.
##
About All Traffic Solutions
All Traffic Solutions is a leader in traffic safety and data analytics for Intelligent Transportation Systems and smart parking applications. We help law enforcement, municipal agencies and commercial organizations use data and cloud-supported devices such as web-enabled radar speed displays, conditional messaging technology, and lidar technology to calm traffic, optimize parking availability, share notifications, and improve traffic safety— while maximizing resources and budget. For more information, visit our website.
The study was conducted in cities across the U.S. using traffic data gathered from ATS radar speed signs and traffic counters and automatically uploaded to ATS TraffiCloud, the company's patented cloud-based data and analytics software. The results paint a very different picture from reports on the sharp increase in drivers traveling at speeds of up to 50% higher on major roadways no longer crowded due to state-wide shutdowns. The study will be presented by Andy Souders, ATS' CEO.
"The data tells an interesting story, not only in how these cities are responding to the COVID-19 crisis, but also how they are consistently maintaining safe speeds on their roads by deploying radar speed signs that gather data at a time when many U.S. cities report sharp increases in speed, crashes and fatalities on near-empty roads due to mandatory shelter in place orders," said Souders.
The webinar will also look at how law enforcement and other agencies can maintain social distancing using web-enabled radar speed signs they program remotely with TraffiCloud, reducing the time they spend in the field programming signs, checking batteries and making traffic stops.
To register for the webinar, visit the company's website.
Posted in Press Releases.