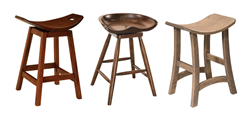 These barstools are designed for homeowners who appreciate solid hardwood furniture that fits into a modern décor.
SHIPSHEWANA, Ind. (PRWEB) January 29, 2020
As if to dispel any notion that all Amish furniture is traditional, classic and predictable, Brandenberry Amish Furniture of Shipshewana, Indiana, recently added three trendy, backless barstools to its lineup. They are the Wilford Swivel Bar Chair, the Winslow Wood Barstool and the Norcross Stationary Bar Stool.
These barstools, along with the extensive collection of other solid wood barstools are available at Brandenberry's website.
With its seat meticulously carved in the shape of a saddle, the Wilford Swivel Bar Chair is ready to take homeowners and guests on a fun ride every time they settle in for a meal or a drink. The cool design makes the barstool a welcome addition to any trendy house or apartment – city, suburbs or country.
A deeply contoured seat honed from a block of solid hardwood sets the Winslow Wood Barstool apart from the pack. The contour of the seat makes it incredibly comfortable – not to mention being quite a conversation piece! The Winslow barstool is the ideal piece for today's chic houses or apartments.
Both the Wilford and Winslow barstools are available with a fixed or swivel seat. The swivel feature makes getting into and out of the stool easier and makes it easier to swing from side to side while in conversations.
The Norcross Stationary Bar Stool features an eye-catching curved design in the seat, legs and cross-members. This feature enhances comfort as well as eye appeal.
All three barstools are available in heights of 24 and 30 inches. So homeowners can order any of the barstools for their kitchen counter, in-home bar or pub table. In addition, because these barstools have no back, they store easily beneath the kitchen counter or pub table.
Explaining the placement of the Wilford, Winslow and Norcross barstools in the Brandenberry lineup, Floyd Eash, furniture consultant at Brandenberry Amish Furniture says, "These barstools are designed for homeowners who appreciate solid hardwood furniture that fits into a modern décor."
The barstools are custom-built by Amish cabinetmakers -- the best in the Midwest. Also, the Amish craftsmen use quality regional hardwoods, such as maple, oak and cherry. As a result, the barstools are sturdy, durable – and heirloom-quality.
Customers can order any of the Wilford, Winslow or Norcross barstools online or, they can visit Brandenberry's 'brick and mortar' store in Shipshewana, Indiana.
About Brandenberry Amish Furniture
Brandenberry Amish Furniture is located at 1045 N. State Road 5 in Shipshewana, at the intersection of State Road 5 and US 20, near the Indiana Toll Road. The store is open Monday through Saturday from 9 a.m. to 5 p.m. and by appointment.
Brandenberry Furniture opened its doors in 2008. The Brandenberry Furniture concept allows customers to design the furniture of their dreams…to explore the rich woods and stains that only nature can offer. Nothing matches the feel, the smell and the weight of hickory, oak, cherry, maple…real woods that come to life in an Amish handcrafted piece. They are meant to last a lifetime and beyond.
Whether a customer's favorite style is Mission, Traditional, Modern or something in between, if Brandenberry Furniture doesn't carry it, their craftsmen will build it to specification.
Brandenberry Furniture offers everything from bedroom and dining collections to home accessories, patio and exclusive furniture pieces. Browse our easy-to-use website with detailed photographs and information, and you'll find furniture categorized by room (including family room, dining room, bedroom, office, children's) as well as by wood species (including oak, hickory, cherry, elm, maple, pine and cedar) and style.